Once Upon A Time emiT A nopU ecnO 3
December 9, 2009
"We cannot take that chance!" blubbered Lord Louis.

"We already have."

The queen's eyes opened as she spoke. She took in Lord Louis's stunned, ashen face, and continued, "So obviously there is every reason why we should be married."

And grudgingly the court agreed, for she was queen. But Lord Louis took Muse aside and whispered in his ear, "If you harm my queen or any of her children to come in any way, intentional or otherwise, I assure you I will see your head on a spike."

The queen married Muse the next week.

Nine months later, on the night of an eclipse, the queen gave birth to twins. Both girls, they were mirror images of each other. Both were fairly somber, with fair elfin faces and pale sapphire eyes. They had their father's dark hair which they liked to braid into a single plait. They wore midnight blue silk dresses that fit their skinny forms while at court, but in their downtime they wore the Gypsy clothes of their ancestors. They had also inherited the Gypsy mark and the Gypsy magic. It did not drive them mad, but it did enable to mind speak with each other and also read people's minds. This sobered them, for what people thought depressed them even if they were thinking happy thoughts. And around their throats they wore identical lockets, each set with a star carved onto its front. Inside each locket, on a piece of folded parchment, were their names: one was Arika, and the other was Akira, but in opposite lockets so they could always be with the other.

Now, the court was not pleased that the children had 1) been twins because it made succession all the harder, 2) had Gypsy magic and marks, and 3) wore Gypsy clothes on their free time like their father. And not just any Gypsy clothes, but men's Gypsy clothes. But they couldn't complain, because they were just glad that they hadn't gone mad and killed themselves yet.

Well, on the girl's thirteenth birthday, the unthinkable happened. The Gypsy magic inside of Arika went awry, and before the entire court and her twin, she vanished. People searched for their princess, but none more so than her family. Akira was frantic. And finally they found her…

On the other side of the mirror.

A mirror hung in every bedroom and every bathroom, and so when Akira stepped into her bedroom to look for her sister, she saw Arika on the other side of the mirror. Arika was beating against the mirror, trying to get out, but she was trapped on the other side in a parallel universe where everything was the same except Akira had vanished instead of Arika. The only way they could speak to each other was through their minds, and reading other people's minds slowly faded away as their mind speak need grew.

Life went on.

The queen and king finally grew too old to rule, and both Akira and Arika stepped up to rule in each of their parallel universes. They chose to marry a prince, who was initially part Gypsy as well because his mother was a Gypsy and the king of the land next to them had taken her as his step-wife. The court was scandalized.

They had kids, a girl and two boys for each. When, many years later, they were on their death beds, they gave their girls the lockets to remember their lost aunts, the lost heirs to the throne. And so it was passed on, mother to daughter. The lost heirs were remembered. All through the lockets.

Then their family was overthrown by a neighboring country, and the royal family scattered. The girls who had inherited the locket married scholars. The locket continued to be passed on until present day.

And this is where our story really starts, the story of Lavender and Rosemary who had inherited both the Gypsy magic of their ancestors but also the lockets that still held the memory of Akira and Arika.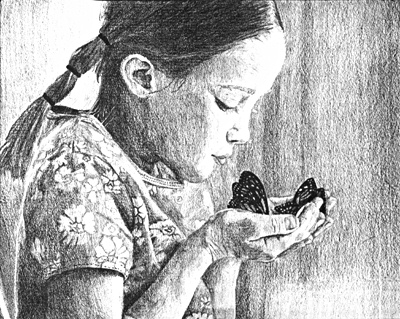 © Alina L., Holland Patent, NY