The Others
March 14, 2010
There is, according to scientists, one rule about dreams. Nobody ever dreams that they die. Never. However, according to another source, most people dream at least once in their life that they are dying. It will most likely be the last dream they ever have, but it is possible. And that is exactly what happened to me. Except, it wasn't my last dream. Far from it. It was the first real dream I ever had.

After that dream, everything changed. Including all the things that are never supposed to change. Such as gravity's ability to keep me on the ground. Some things didn't change so much as they opened up for me. One of the doors that were unlocked by that fateful dream was mind reading. Not like in the stories, where the said mind reader can somehow hear what the other person is thinking in words. I can feel the other's thoughts.

It can be described as an extremely elevated sense of empathy, although I personally tend to avoid portraying it as such. Not that I have ever told anyone about it. So actually, it would be more correct to say I avoid having to illustrate it to people. Period. But I like to think that if I were to tell someone about it, I would focus more on the colors that I see, not the feelings. I learn more about the person if I look at the colors they associate with different circumstances than if I were to only think about the feelings. For instance, almost everyone has felt frustration. But only a few "feel" purple during those times.

I am the only one of my kind who can mind-read. Tessa, who is able to slip in to a human's dreams and interpret what the dream's meaning is, has one of the talents closest to mine. However, her talent works only with humans, and I can feel anyone. Well, anyone except myself. I've tried countless times, but I can't see my colors. All I get is a dull gray. I don't know if it means something is wrong with the way I think, or if fully realizing yourself is unachievable. It is possible, after all, to know yourself too well. The people who do can't stand themselves anymore. They become madmen.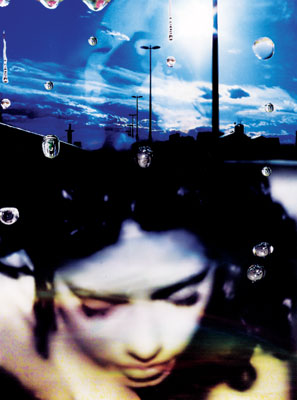 © Becky F., Sacramento, CA