Think
June 7, 2010
"No. You can't do this to me," I beg barely above a whisper. I know she can hear me just fine. I flinch as a twig snaps under her feet. She leans in closer. So close, that even through the darkness, I can make out the hatred burning in her brown eyes.
"I can do anything I want to you," She hisses, maddened by my speaking. I take a punch to the face before I stumble on the dirt ground. I want to shield myself with my hands, but the rope around my wrists are much too tight. I whimper, so afriad."We must meet eye to eye little girl," she indelicatly demands as she stabs her heel into my shoulder blade. I squeeze my eyes, shaking."I am the boss. Once you abandon hope, I will let you out." And with that, I hear the click click of her heels as she walks up the steps of the curling staircase.
It takes me while to calm down my breathe. Slowly, I struggle to get on my feet. Abandon hope? Please. I'm much more stronger than that. I look up, to only see darkness. Think. There must be a way out of here. Just think.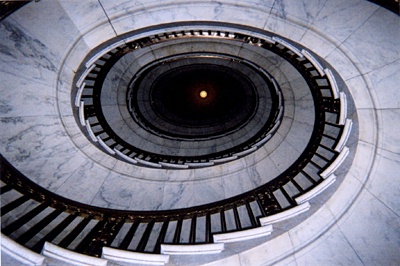 © Kyle T., St. Joseph, MO