The Sandman
June 18, 2010
The hooded figure stood in the doorway, open to a bedroom lit only by the moon from the window and a small nightlight in the corner. The light cascaded over a large bed, its headboard decorated in the décor of princess things. In the bed lay a small girl, perhaps only six, tucked under blankets pulled all the way to her chin. Her long hair lay sprawled on her pillow like long gold chains. She was sound asleep. Her only movement was the slight quiver of her eyelids and the shaking of her lips as she exhaled a breath.

The person in the doorway stepped into the room, stopping for a moment, then went to the bedside. They cocked their unseen head at the drawings on the headboard, at the collected emblems of the sleeping girl's princess fantasies. There was a crown, painted crudely in gold marker and splattered with blots of glitter.

The hooded figure reached out a hand. Their white fingers gently brushed against the cardboard.

"Mamma," The girl muttered.

The hooded person withdrew their arm and stepped back from the bed. The girl was still asleep, but wrapped in what might be a nightmare.

"Mamma, is that you?" The girl asked.

"No." whispered the hooded figure. They stepped back up to the bed and sat down on the side. The person drew back the hood, revealing a skinny man, perhaps in his thirties. His stubble hair made his ears appear to stick out and his nose overly long, made his eyes look beady. His teeth, leering in the moonlight, were yellow and crooked, some were even black. He had a scrawny neck, that accentuated his Adam's apple and his chin was patched with a bit of bloody toilet paper. "I'm the sandman." He whispered. "I've come to make you sleep forever."

His beady eyes rolled in the back of his head, his sockets white. He touched a finger to her head. The girl gasped, lunged forward and fell back on her pillow. She moved no more.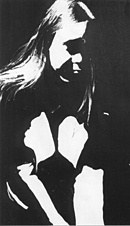 © Tabitha M., Kannapolis, NC