My Monster, Rainbow
July 10, 2010
My monster's name describes its wings. The colors of the wings are silver, light pink, yellow, orange, green, blue, purple, and red. The wings are wide and take almost the whole top of the page.

Then there's my monster's tail, which is long and red. The tip of the tail is aqua blue, and it's shaped like the end of an arrow.

My monster, Rainbow, has a small head, with two long tentacles and in the end of them, it turns round. The colors of the tentacles are blue, and green. The green is in the tip of them. He has round eyes. The color of his eye looks like the monster, in Harry Potter, called the basilisk.

Ooh and I almost forgot, in his head there are three red spikes, with one orange horn. His mouth is open, showing many little dagger teeth. His nose looks like a cats, but a little bigger.

Rainbows skin is purple. It also has a very long neck it leads down to the stomach which is a mix of greens. The front and back of its feet are long with claws the color brown. I hope you like my monster as much as i do too. Use your imagination, and then you will see my monster Rainbow.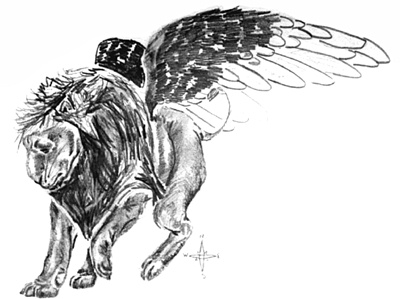 © Dana R., Phoenix, AZ