She Dreamed of Jake
September 6, 2010
The door squeaked a little as Jake pushed it open. He grimaced and froze, flashing a glance to his right at the sleeping form. The girl, tangled in her sheets, turned to her other side with a fretful sigh. Jake waited for the frown on her face to relax, the worried lines between her eyebrows to fade. Then he closed the door behind him.

The girl's room was neater than he expected it to be. When she was awake, her slight slouch and her easy-going manner always gave him the impression of someone who just didn't care about anything. But somehow, as he slowly turned in a circle, it seemed to suit her. Jake smiled, stuffing his hands into his back pockets. Just like she did.

The walls were painted magenta and pale grey. The vibrancy of the magenta matched hers, the grey her slight distance. For a moment, he wondered if she had noticed the similarities when she picked the colors out. He looked again at the sleeping face and smiled. She probably had.

Shelves of knick-knacks and books sandwiched a desk on one side of the room. Books, as he looked around, seemed to be everywhere. They were splayed out onto the window seat, on her chair with a sticky note saying to return them to the library, even on the ladder of her bunk bed. The knick-knacks weren't so evident, but he didn't know anybody else who collected back-packs and book-bags or hand-me-downs or broken pieces of shell like she did.

Jake moved the books on the red desk-chair to her desk and sat down, still looking around. Her curtains were a darker grey than her walls, and the contrast of the grey on the magenta wall played with the theme of the girl's attitudes. On the same wall was a colorful 'N' made of fabric over a wood frame that is probably twenty bucks at Target. Below that was a picture of a faerie sitting on a crescent moon, her head hung low with her dark brown hair acting as a curtain to hide her face. The picture was all done in shades of grey and purple. Jake looked over at the sleeping girl and shook his head. He forced his attention to the wall opposite him, trying not to dwell on the picture and the emptiness it evoked inside of him.

A nightstand with a tall white jewelry box stood next to the closet, an iHome with an iPod plugged in balanced on top of the jewelry box. The closet doors were mirrors, and again Jake wondered if she had noticed the irony. He was tempted to open those doors, look and see if she still wore everything pink. Something told him that she didn't.

Her father had made the bunk beds, but he had not made them for her. He had made them for her sisters, and she got them after the remodel when her sisters got their own beds and their own rooms. Another hand-me-down.

The iHome told him that it was four o'clock in the morning. In an hour or two, the household would wake up and begin their daily routine. An hour or two after that, she will wake up. It was time to go.

Jake stood and walked over to the sleeping girl. He knelt beside the bed, brushed a lock of her red hair out of her face. Red hair, just like his. When her eyes opened, he knew they would be identical to his: blue, with shades of green and gray. He looked at the hand that cradled her head: long fingers, wide palm. Just like his. Her skin was as fair as his, if a littler tanner. When she stood, he knew they would be the same height: five foot- six. She was his twin. But she didn't even know he existed. He had died at birth. He was just a ghost.

He pressed his lips to her forehead, then turned away, pausing only at the door. He turned back to take one last look at his twin.

"Goodbye, Natalie," he whispered, hand on the door-knob. She never heard him. Just the faint click of the door as it closed as it entered her dream.

She dreamed of Jake.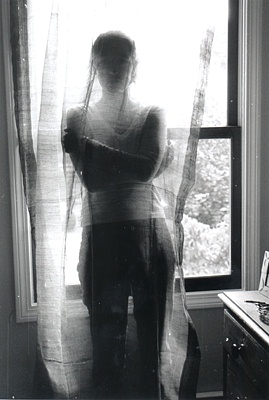 © Cerys W., Marblehead, MA