It (A Short Halloween Story)
October 18, 2011
We were all sitting in a circle, there was about fifteen of us. We were sitting on the floor in a room with four white walls and a small closed door of the closet in the back corner. It was my turn.

"Go ahead Julie," our leader said, she was the only one in a plastic blue chair because; she had a baby that was due in a few weeks, the rest of us on the white floor.

I began, "My name is Julie Christina Jane Smith. And it all began on a Sunday. The first Sunday in October, I distinctly recall how the leaves were all on the ground and crunched as I walked along. I was out for a jog, alone. I decided to take a detour through the cemetery and pay my respects to my great-great grandmother. That's when I heard it. It was following me on heavy shuffling feet. Its breath came in short, quick labored gasps. I looked back over my shoulder prepared to bolt, but there was nothing there. Then it stopped. I slowed to a walk and listened hard. It was following me again every once in a while it sniff a cold wet nasally sniff. Again I whipped around, but only saw leaves spiraling down from the trees above. I was done officially frightened and took a short cut through the graves to get back to the road. It never missed a beat, with its teeth grinding against one another, and the smell of its breath putrid and sickening trickling down my neck setting my hairs on end. I didn't even bother to turn around this time. I stopped and screamed in my mind, what do you want? A grumble, grunt, and rough gravelly growl was all it said. I wrapped my arms around me and trembled. It then spoke, sorry wrong person. And it was gone. I ran home."

"And…" She prompted.

"It is not real," I completed.

All fifteen of us shifted uncomfortably It was real. We all know it. In fact It is in the closet.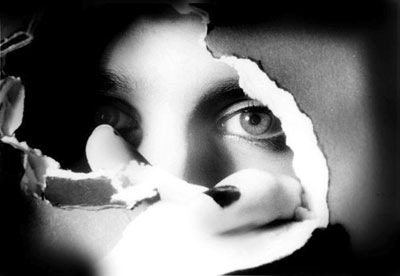 © Tabatha B., Peoria, IL