More Than A Hallucination.
October 26, 2011
'David,' Our group leader, John, said 'Come look at this'
I walked over to where he was standing, and he pointed towards something in the forest that I could not yet see.
'Right over there,' He said 'In between those two trees.'
Then I saw what he was pointing to; a bear. A baby one, if I'm not mistaken.
As everyone marveled at the sleeping cub, I noticed my close friend, James, further along the hiking path, and started walking toward him.

When James saw me coming, he said, 'David, do you see that?'
He was pointing towards a trailer covered in branches and moss.
'It looks abandoned,' James said 'Maybe we should go check it out.'
But before we got the chance to, the rest of the group had also noticed the trailer and ran over to it.
I smiled and thought, they always have to be the first to check things out. I also thought about how interesting and fun this camping trip had been so far. We caught and cooked fish, we made up stories and told them around the campfire, we even saw a bear! Now we just so happen to come across an old trailer. When James and I, taking our time, were halfway there, when we heard screams and shouts coming from within the trailer.
Our camping group rushed out, John in front, yelling, 'Ghost!Ghost! Don't go in, it's haunted!'
That's odd, I thought, since John is usually the one who stays calm when things happen. Well, it was probably just an animal, not a ghost. But James and I went to check it out anyways.
The front room was very messy, with old newspapers and candy wrappers everywhere. But we did not find any "ghosts" there.
I was not prepared for the sight I took in when we entered the back room. John was right, I thought, there is a ghost! But further inspection told me that it is not a ghost, but some sort of hologram, and it kept doing the same thing over and over.
Even though I could not hear it, I could tell that it was yelling. Then it would take a knife out of it's back pocket and ,with an angered expression on it's face, would throw it at the wall in front of him. This sent chills up my spine, but I somehow could not bring my gaze away.
This kinda looks like...No, I thought, that's impossible... I did not finish the thought, mostly because I didn't want to.
'David,' James said, whom I'd forgotten was even with me. 'Lets go. This is pretty weird.'


A few days later, I went on a walk to try and clear my head. So far, it's not working.
The image of the hologram throwing that knife with such rage at the wall would not get out of my mind. It had scared me so much, that I've been having nightmares about it, where I was the one it was throwing the knife at. The memory haunts me, and- My thoughts were cut short when I felt a hand grasp my shoulder. I jumped and turned around, just to find that it was James.
'You scared me!' I cried, as I took in his serious expression.
'Sorry,' James said, though I doubt he meant it, 'I need to talk to you.'
Judging from his facial expression, what he needed to say was going to be pretty important.
'David,' James said, 'I thought you should know that I've been back to the trailer and have come to the conclusion that we must have been hallucinating;There is no ghost thing.'
James had a strange smile on his face, and when he told me that he had been back to the trailer, I knew that he was still hiding something from me.
As if reading my thoughts, James added, 'And I have decided to live in the trailer.'
This surprised me, and I did not know how to respond. So I didn't. But I could tell that something was clouding James' thoughts.
James was not acting like James.


Later that night, I could not sleep. The thought of my best friend being in a creepy trailer all my himself kept me awake. So I threw on some warm clothes, and started walking towards the strange trailer.
On my walk there, I thought about what James had told me. Could we really have just been hallucinating? Was it all just a figure of my imagination? If so, then how could all of us imagined the same thing?
I stopped asking myself these questions, and started trying to answer them. Well, I thought, I know for a fact that there's no way I could have been hallucinating. That thing seemed way too real to be just an image my mind made up. And when I had talked to the rest of the group about what James had told me, they all still believed it was too real to be fake. Still, it's hard to believe, but I believe it.
As I came upon the trailer, I stopped in my tracks when I heard things being banged around inside. So I snuck up to the window and peered inside. The sight made me catch my breath. It was James in there, throwing chairs and books and anything within arms reach at the walls.
I was so shocked, that I did not know what to do besides go in there and figure out what's going on.
I did not find James in the front room, only an even bigger mess than the last time I was in here, so I went to the back room.
That's where I found James, who looked like he had not been sleeping well lately.
'James,' I said, as I took in his mad appearance. 'Are you alright?'
He looked at me with such hatred, that I could hardly believe this was the same person I became best friends with at a Boys Scout camp years ago. His look of anger chilled me to the bone, and sent shivers up my spine. Before I knew it, he was yelling at me so loudly, that I thought he would wake every living creature on earth. He was saying so many things,and with such force in his words, that I could not tell what he was saying, only that he was very upset with me.
Then,when I saw him reach for his back pocket, my worst nightmare came true. And the realization that came with it was heartbreaking; James is the fulfillment of the hologram. With a burst of hope, I launched towards him, hoping I could stop him before he did something he would regret. But I was too late. His hand came back around, this time holding a knife. He wound his arm back, and I felt dead before the blade even pierced my heart. It happened so quickly, that I hardly had time to utter my last words.
'Goodbye, old friend,' I said. Then everything went black.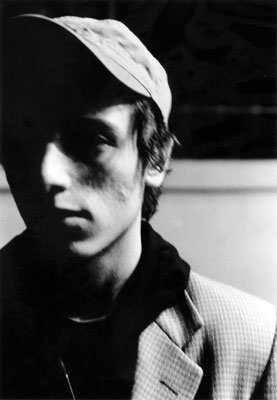 © Ariel L., New York, NY