Moonlit Call
April 9, 2012
She raised the barrel of the gun with precision, slowly so that the rabbit would not notice her presence. One loud, clean shot and the rabbit lay motionless in an expanding pool of blood. `

"Yea, no one's better than me," Diana raised the barrel to her mouth and blew on it. She felt a vibration in her pocket and immediately recognized the buzz was from her emergency hospital pager. She had only gotten a night call on her emergency pager once before when a sick mother that was 5 months pregnant went into unexpected labor. The hospital was still in disbelief years later that Diana was able to save the baby, but people expected nothing less from her. Diana was the baby doctor—no baby under her watch had ever died, against all odds. She strapped her gun to her back, threw down the rest of her hunting supplies to create a lighter load, and sprinted out of the woods. Even the deer were impressed with her speed and agility.

"Oh thank God! Diana's here everyone, she's here!" the doctors cleared a path for Diana, who marched in as if she were actually God herself.

"Okay everyone, stay calm. Let me see the mother. Let's go people! We probably don't have 'til sunrise!" Diana laid her sweaty hand on the head of the equally as sweaty mother. "Fever's high! Get her some cold cloths! Now!" nobody questioned her and every doctor scrambled to obey. "We're looking at conjoined twins here. Look at this ultrasound! What moron didn't see this?! She needs to get them out now!" Diana started the process with the mother and ordered the doctors to prepare for a separation procedure. She put latex gloves on as if she were stringing a bow and looked at the moon, her good luck charm, for assurance. "Let's do this!"

Within 5 hours, the babies were out and separated. Diana's fair face had become pasty white, her high forehead covered in sweat. The hospital staff sat around her, helping her to rest in comfort from the difficult procedure she just performed, but the scene looked more like a goddess surrounded by worshiping commoners. Abruptly, Diana stood up and began packing up her tools.

"Where are you going?" a confused doctor asked.

"I didn't get that rabbit for the squirrels to eat," she walked out with her gun strapped to her back, leaving a room full of baffled doctors. Nobody had any idea what she was talking about or where her gun came from or how she possibly had enough energy to go home.

Diana avoided the leaves so not to disturb the night with the crunch of them as she disappeared back into the woods. Using only the moonlight to guide her, she found the spot where the rabbit lay dead, but the rabbit was gone.

"How dare you animals take what was earned for myself! I demand my rabbit!" She slammed her gun into the soil and crossed her arms. A bear timidly emerged from the shadows with a rabbit in its mouth. The rabbit dropped at Diana's feet and the bear bowed his head in apology. "You are a foolish bear. Your next birth will not be bountiful," and with that the bear disappeared again. Diana took her rabbit and left the woods for home, knowing that the next day would be no less eventful.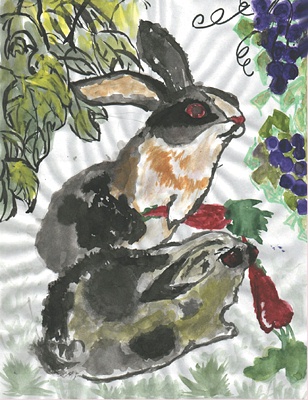 © Xin H., Elmont, NY