The Edge: Greed
June 19, 2012
I sat on the edge of the world. My legs swung thoughtlessly off the side of the earth, and they swung back and forth to the rhythm of my heartbeat. My breathing was off, though. Between every front and back leg-swing, I would breathe, yet every third breath came just a small second too quickly. The entire clockwork of my thoughtless leg-swinging, heart-beating, and nose-breathing was offset so intolerably by my inconvenient lung action that I would freeze my entire body for a moment. I would feel the trapped air rise to my mouth and I would feel it scream for release, but I made it wait. It waited until my machine could work in harmonious tandem again, and then I would allow it to continue.

The edge of the world was a peaceful place.

When I reached out I could touch the blackness of space, and it rippled before me, as if space were a glassy, black lake that had been so rudely interrupted by the single throw of a pebble. I was the pebble.

And I would push myself off of the edge of the world, and I would lie back and float among the stars. They were endless stars. Endless was below. Endless was above. The stars were so endless that I became the center of the universe, relative to me.

But I was not happy. This was not enough.

The universe meant nothing if I was the only one to admire its splendor. Its peace. Its thoughtlessness.

So I searched. I reached my arms out, and I pushed. I swam through space and paddled among the stars, looking for someone else. Someone else who had pushed off the edge of the world.
There were thousands of stars. Millions of galaxies. And among the infinity of celestial bodies, I was merely looking for another person like me that, when compared to the universe, was smaller than a drop in the ocean.
But who else would want to feel so small? In my pursuit of the illusion of happiness, I had only tried to be greater than the rest of the world. But greatness is a curse when you're blinded by want and not need.

Perhaps the world was a nicer place after all.

Because in the universe, I had no one but me.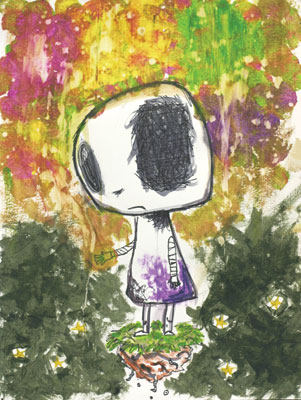 © Ashley W., Port Charlotte, FL