How to Save a Life
March 8, 2013
Feeling the cold ground below hid feet, the soft crunch of the delicate herbs, William began making the potion in a desperate attempt to revive his beautiful wife, now ice cold to the touch, from the unforgiving grave. The sweet smell of frankincense flooded his nostrils as he scampered around the room running the seemingly endless list of herbs in his head trying to come up with the perfect combination to bring his limp wife back from the darkness of death.

William caressed the cold face of his love Cassandra, who had her soul stolen away by a silent killing fever that had wiped through the village only three days before. No amount of potions or poultices would heal her of her illness before it was too late. They told William to give up, begging him to let her go. No, even after death he could not give up on the love of his life.

He grabbed jars after jars of herbs and ingredients ignoring the clanking and rattling sounds they made. He dug his hand into a jar of marigold and enjoyed the refreshing cool feeling of the petals swimming around his fingers. Poppy seed, dead bees, comfrey, yarrow leaves, dill weeds, the names were buzzing in his head, pounding against the sides giving him a nauseas feeling as he crammed them into his potion bottle. Neptune's tears, child's fears, a goat's ear, and butterbeer, he mixed and shook his pungent smelling concoction until it turned from a sickly green, to a glowing florescent purple color.

"This is it." William whispered. "Time to come home my sweet Cassandra. Don't give up on me." As he walked over to his pale wife, the herbs around him overpowering the scent of decaying skin, now taking over Cassandra's body that used to smell of sweet vanilla. William's eyes started forming tears at the thought of getting his wife back.

As he got closer to her body, and his eyes welled up showing his sadness, he failed to see a loose stone on his cobblestone floor and stumbled. The glowing purple bottle of life landed with a crash on the hard ground leaving nothing but shattered remains. The purple liquid once overpowering with beauty began mixing with the calcium, sediment, and brimstone deposits in the floor, blending with the dirt sabotaging the mixture. The now sickeningly yellow potion spread across the floor towards William like a predator crawling in to kill his prey. As the potion engulfed his hand William felt a piercing pain ripple through his body from head to toe.

William's body started to burn as his skin stretched and tightened feeling heavier with each step. His hair grew rapidly and turned grey with his coming age, his nails slowly pulling themselves out of their place as they grew. William fought his way up with his now aching hollow bones. He limped across the room trying to grab hold of anything that could give him support and relieve him of his growing pain. He hurriedly began working on an antidote for his fast aging curse as his spine began to arch and slouch. His eyes became a blur and his nose now blind from scent as his body prepared for rest. He began waddling on his great journey again back to the table on which his wife lay. He chugged down the antidote and felt his now 95-year-old body slowly shapes itself back into its 30-year-old form. His senses suddenly rushing back to him as his skin nourished and his mangy grey hair retreated back to his scalp and returned to its healthy straight brown locks. He rushed over to his loves side once more and slowly opened her mouth. Her rotting breath and yellow teeth no longer repelling as he dripped the repaired purple potion into Cassandra's mouth. Cassandra's frail body began to violently shake. Pale skin now tan, drenched white hair now curly and golden again.

Cassandra opened her milky white eyes as they glowed and shimmered replacing the dull color to its original soft icy blue radiant color. She opened her now full lips and leaned towards William's crying astonished face and in a shaky croaked voice she rasped, "I knew you wouldn't give up on me".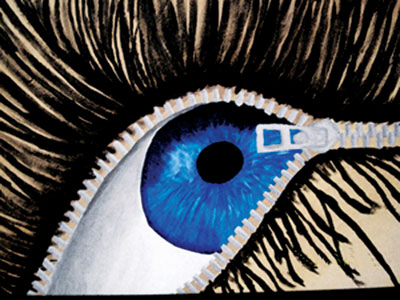 © Brad S., Lecompton, KS