Wild (Prologue)
August 12, 2013
The first Mutant created sat in his labratory, dormant and stagnant for seven straight years.
An eternity of relentless testing was to no avail. It never grew, never proved to be something worthwhile. Holding his head in his hands in frustration, Rantik clenched his fists, knuckles blanched.
With a ferocious growl, he swiped his hand across his desk, crashing plasma tubes and various liquids to the floor in blind rage. Eyes wide and practically glowing, eyebrows furrowed with desperation, the scientist furiously scribbled through his testing journals, one by one, giant X's gleaming in red ink across all pages.
Nothing he would ever do would be correct. He toiled and labored most of his life, and when it came to the climax of his career, he failed.
He was always a disappointment from the moment his father taught him how to fuse DNA. Creating monstrous, beastly, deformed creatures had always been his result.
Rantik gritted his teeth and closed his darkened eyes, shoulders sagging with the weight of hopelessness.
What if I truly created a creature part plant and part human? He wondered. In his mind, it was obvious everyone would take him seriously. He'd never be cruelly mocked for his outrageous ideas or criticized for his extreme experiments.
He'd be accepted.
With a scowl, Rantik cursed himself for being so conceited and naïve. Originally, his theory of Mutality was to benefit society, an aid to halt the Leader's plans destined to deteriorate the Nation. All of his life he was trained to do something wonderful for the world, while in reality, he was merely supporting his own ego.
A tear slipped down his shining cheek like a tattered, golden leaf from a tree. This Mutant creation was his last hope, shattered years ago. He was out of time.
Rantik padded silently into his room and shut the door, filling his lungs with sullied oxygen.


A few days later, the plant Mutant still hung untouched in the lab, above the cabinets, attached to a metal contraption.

He didn't come out, only to use the restroom and to hastily grab food to satisfy his weakened appetite. So during one evening, when the solid oak door unexpectedly shuttered with three monotone knocks upon its frame, he froze.

"It's me," a somber voice echoed from the other side.

Rantik raised an eyebrow, a faint, knowing smile tugging upon his cracked lips.
"James," Rantik mused surprisingly as he heaved the door open by its brass handles. "To what do I owe the pleasure?"

"There is something we must discuss urgently."

With a frown, Rantik gestured him inside, mouth tight with concern. Fidgeting with his hands awkwardly, he couldn't help but stare at his childhood friend. After a decade, James's once hazel eyes transformed into frozen irises delude of sympathy and his once scrawny limbs bulged through a strangely untidy uniform. His forehead unusually gleamed with perspiration and he fingered something elusively in his pocket.

"Would you like any refreshments?" Rantik's voice echoed throughout the emptiness of his residence.

"No, thank you."

Rantik nodded and silently led James to his lab, footsteps hollow with grave importance.

"Please, excuse the mess. I'll take care of it." Rantik clumsily swiped all stray contents into a pile and salvaged broken bottles of liquids that had been left since the week before…

"Rank, forget it."

The scientist stiffened, breath shallow and uneasy after hearing his childhood nickname once more. "Sure, Jay."

"Please, sit down." James brushed off his uniform and sat himself, waiting for Rantik to take his own.

"It has been a long time," Rantik said lips tight.

"Yes, it has. I suppose I should have visited you more often, brother." After glancing around the room, he added, "You've improved much to your home. Why, I remember when it was merely a small one room cabin."

Rantik slightly grinned. "Yes, I've added quite a few more stories to enhance my experimentation. Although, it does get quite lonely up here; in all honesty, I haven't received a visitor in ages."
"Indeed? I would have come to see you but… we've chosen very different paths."
Rantik hesitated. "Do you ever… regret yours?"
"You mean do I ever regret joining Tork's military?" James asked rhetorically while stroking his cream colored beard pensively. "I've never had before but after… the incident, there is no doubt I do. As a soldier, I loyally served the Leader, and I was much honored. I believed I wouldn't desire any other position, although now I might consider otherwise." His eyes bore into Rantik, delude of emotion. "Do you regret yours?"
Rantik sighed in frustration. "No, James. I am not regretful; I am given the chance to actually fight for something. But you should be without shadow of a doubt. How could you be so proud when your so-called Leader simply bullies his citizens into doing what he pleases?"
James narrowed his eyes. "I did not come to argue. Part of me agrees with your conclusion, but I chose Mother's path and you chose Father's." Darting his eyes to the drooping flower contraption attached to the ceiling, James continued, "And, if I may add, he wasn't successful with his work and you do not look much different."
Rantik opened his mouth to retort, but only silence rang, stinging the air. Instead, he glared at his brother. "I assure you I am a better scientist than you are the Leader's play soldier."
James slammed his fist on the granite counter. "That's enough. We have time later to fight. I know I've made several mistakes and haven't been much of a big brother, but there are worse things happening in the Nation that must be discussed immediately."
Refusing to so much as glance at his brother, Rantik huffed, "Leave me be. If you do not appreciate my choices, as it is my life, you may go."
James sighed deeply, returned to his seat and lowered his head. "Rank… I'm sorry, alright? Lydia and…they're sick."
The glare in Rantik's eyes disappeared, replaced by pure terror. "How do you mean?"
"Your… experiments that you released into the Forest…" James shoulder's sagged, soldier-posture all but forgotten. He dropped his head in his hands and stifled a sob.
"Lydia was eight months pregnant. One of the Leader's soldiers visited our house a fortnight ago and brought one of your Releases inside our living room on a leash and muzzle. He said that I, being patrol captain of the Forest, am responsible for the… beast. He said more are breeding and terrorizing citizens; even one came close to attacking the Leader. Because of me, he said, scientists have found other creations and began to follow your philosophies, creating creatures of their own, despite the Leader's threatening demands.
"So I apologized for his inconvenience, but denied any link to it. In all honesty, I knew those beasts resided there before anyone. I just… Rantik, I knew what they would do to you if they found out. As a result, I was punished." James gripped the arms of his chair and grimaced as if in pain.
"The soldier yanked Lydia down to the ground by her hair and asked me one more time, 'Did you know anything about these Mutation experiments?' The look of pure horror flashed across my wife's innocent face and bore into my mind. I thought about our baby who was endangered without even being entered into the world yet. But I couldn't turn you in, Brother. I couldn't."
James clutched his chair, stiff as a plank. "The Mutant bit her. She screamed so loud that it's the only thing I hear anymore. It practically ate her alive in front of me. I couldn't take it anymore. I grabbed my gun and killed the Mutant and soldier, blind with uncontrollable rage. I… I have never killed anyone in my life until that day."

Rantik's eyes grew wide as he shook his head. "James. You…" He felt a sudden urge to comfort his brother, but another thought pummeled into his mind with dread. "You…you realize what happens when a human is bit by a Mutant?"
"You become one," James finished solemnly.

"So Lydia and the baby are half human half Mutant…Oh my God, James. They're going to come after you. You essentially wrote yourself a death sentence because of me."
James lowered his eyes and shook his head. "Lydia recently gave birth to our child after the incident. We have named her Sabria of Latin origin, but you may name her differently for safety precautions. Lydia awaits with her a few blocks away from here. We are trying to run away from Tork, the center of the inevitable war. But I am afraid. We're migrating to Peak in search of a better life… but the baby cannot come. It is far too dangerous."
Rantik knitted his eyebrows in confusion. "What exactly are you proposing?"
"You are the child's only lifeline. If you do not come to her aid, no one shall."
Rantik began to tremble. "I am in no state of being a father. I… I can barely fend for myself. You can't leave. Please. We can all escape together. They'll make sure you two suffer long before they kill you, and I can't let that happen… This has all occurred because of me." He dropped his head into his quivering hands.
James faintly smiled and lifted his brother's hand in his, placing a chilling, light gold locket in his palm and closing it carefully. "Flee, brother. Run away from this place. Hide with my child and hopefully fate will piece us back together. Hurry; they will come for you next."
As Rantik rapidly packed his belongings, it was unknown to both brothers that the failed plant of seven years blinked and watched them behind beady yellow eyes as they rushed for departure.
Reaching out with tendrils of thorny vines, the creature slid its arms toward the oblivious ankles of its creator.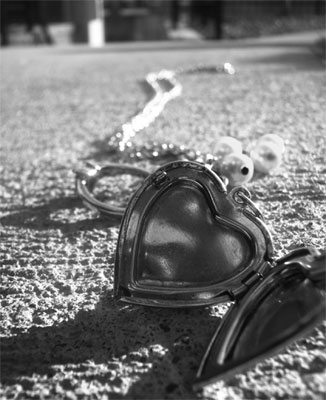 © Francesca Y., Robbinsdale, MN