Come Home
October 21, 2013
I stared deeply into her eyes. They were two black bottomless pits threatening to consume me more with every second, yet inviting me kindly to take comfort in its emptiness. She smiled at me softly, grasping my hand in her cold dead fingers sending shivers up my arms, neck, and spine. Her porcelain white face, cold as it was, displayed nothing but love and warmth, but a greediness to evil to fathom. She pulled me closer to her leading me to the old wooden door. She grasped the small brass handle and opened the door slowly revealing the endless black void that lay on the other side. "Come home with me" she whispered. I shook my head.

Her smile twisted into something that looked like pain and despair, a single tear trailed down her pale flawless face. She gripped my hand tighter causing me to wince, "please, please, come back with me," she desperately whispered. She smiled weakly with her venomous red lips looking at me hopefully with her soulless eyes. "Remember the silence?" she asked, staring into the dark world ahead of us. "You used to love the silence," more tears "I remember, I remember everything. I would watch you as you slept," her voice began to shake "you were such a peaceful sleeper. And I would sit at the foot of your bed, and stroke your soft black hair. You were my light in a world of darkness. "

I roughly pulled away from her, turning my back on the wooden door and her sweet face. "I had spent so long in the darkness, in that cruel cold world, with you, I had almost forgotten how beautiful the moonlight was." I croaked. She stomped her way towards me, much like an angry toddler would, and whispered painfully in my ear

"You're not leaving me again."

"What if I do?" I sneered. She tightly grasped the back of my thin white shirt in her hands and turned me around, pushing me towards the darkness, and shoving me over the edge, leaving me falling into its bottomless depths. She stared down into the blackness as I fell, another tear rolling from her eyes as she quietly spoke to me as if I could hear her.

"Than I'll take you by force, my love." she said, closing her eyes and leaping into the unknown.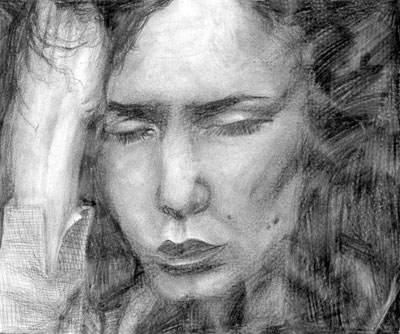 © Fallon K., Baldwin, NY