My dearest N———...
January 26, 2014
My dearest N———,

I am writing to you at two in the morning. Don't be alarmed: it is unusual for me to stay up this late; and, oh, dear sir! you, nevertheless, have no right to reprimand me regarding this matter—you yourself deprive yourself of this luxury called 'sleep'. But that being said, I believe it is opportunate—opportune (dear heavens! I feel much impelled to reread the dictionary) to narrate to you what has occurred to me earlier this evening (last night, to be precise).

I lay on my bed, engrossed in my perusal of this collection of short stories by a Gothic author by the name of Edgar Allan Poe (of and of, and by and by) from the 1800s. (I cannot fathom how a language can retain its syntax and most of its vocabulary over a course of hundreds of years - they speak nearly the same as we do!) His style is mesmerizing, and I was enjoying his works (setting aside the fact that his writings are mostly horrifyingly disturbing) too much I'd forgotten to eat dinner (Y——— is in Tümblewig for a weeklong vacation, and why, Miss P———, as it turns out, has no interest in being initiative and refuses to do beyond the tasks particularly given to her, not even a simple holler for me to have my dinner) and when I looked at the clock it was already an hour past midnight. I was so hungry I could eat a whole horse (ancient idiom). My stomach grumbled like the way you describe the Old Man's snore.

I rushed downstairs, ate some cookies and washed it down with some hot milk-tea, and immediately got rid of the evidences in the scullery. I had meant to go straight to my room; but you see, as I made my way up, I was attracted by a faint line of light on the steps of the stairs. I froze—the Poe stories still fresh in mind—then at length lifted my head, searching for the source, and perceived that the attic's door was left ajar.

I drew my breath and guess what I did, my dearest sir: your adventurous P———, much inclined for a frightening escapade, climbed the rest of the stairs. I slowly opened the door, anticipating an apparition from my late mother (I've mentioned a lot of times before that the attic is where my father keeps my mother's belongings); but to my surprise (to my surprise!), I encountered no ghost: rather my father, asleep on one of the chairs! Isn't it more dreadful than if a phantom greeted me a good day? My excitement was transformed into resentment. My father, who has kept me from this room for a decade, resides in it at night?

But I'm much too good of a daughter and fought all impulse to scream at him and wake him up. I only ambled about quietly and saw and touched and smelt things I hadn't seen for ten years. Then I cried. I now understand Papa; he's kept me from there to restrain my innate longing for a mother I never knew. I felt him stir, so I hastily wiped my tears away, grabbed the nearest box within reach and left.

Guess what's in the box? Lined paper and a colored pencil! And it's brown, the nutty kind - like the color of your hair. Well, it's making me miss you much so I must say goodbye now. I apologize if my paragraphs and sentences are in arrangements not thoroughly well-thought of: I'd been excited, and now I'm already half-asleep. I hope you're sleeping well.

Affectionately yours,

Miss P——— S.
P.S. I cannot surrender to sleep no matter how much my body pleads: I swear someone just knocked on my door. Must it be a ghost?

P.S.S. It's only Miss P———. She demands an explanation for a dirty spoon in the sink. Sometimes I wonder if she is the omnipotent goddess of torture, don't you?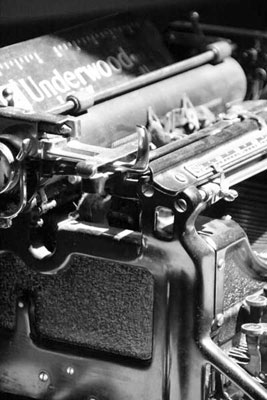 © Nina F., Roanoke Rapids, NC