Death By Wolf
September 5, 2014
She bowed her red, cowled head and allowed herself the chance to feel true grief in over five decades. Though she had gotten older since that fateful day at her grandmother's house, she never truly got over the trauma of being eaten by that damned wolf and surviving when her own grandmother didn't. The sky above rumbled with angry thunder as the clouds darkened from a light gray to a threatening black. The wind picked up slightly ruffling her red cloak as she clenched her fists tight to keep in her sobs of agony and rage.
"-may his soul forever rest in peace. Amen," the priest finished before closing the Bible.
"Amen," the people around her murmured with reverence and bowed heads but she paid them no mind as her eyes stayed planted on her feet.
"Amen," she murmured after and closed her eyes tightly before opening them and looking up to see the priest motioning for the family and friends of the now deceased to pour dirt upon their grave and casket and stepping back. She stayed where she was as her children and grandchildren stepped forward to throw a handful of soil upon his grave. Once the long line of her and her husband's family and friends threw their soil, she stepped forward herself her red cloak billowing out behind her as the wind picked up more. She bent down to get a handful of dirt herself and looked down within the grave.
"Oh, my love," she whispered softly into the hole, "why did you have to leave me all alone? I thought I trained you well enough when we first met. I guess it was my fault that your training wasn't good enough this one time."
She threw the handful of soil in and heard it thump gently upon the wooden top as some of it went into her covered face. She went to turn around but wasn't able to. Her feet seemed to have grown roots and planted themselves within the ground just in front of the grave. A hand came upon her shoulder causing her head to turn to look over her shoulder to see who it was. Her youngest daughter, who just reached the age of twenty, gave her a watery smile as the sky opened up and began to weep.
"Come, Mama," she said softly and grabbed her around the waist, "let us return to the house."
"Did you hear-"
"He died by a-"
"What will happen to-"
"Do you think Little Red will-"
The whispers of those behind her and around her reached her ears and she stiffened as her daughter led her farther toward their home that would be emptier without him. They were talking about it. About what happened to him and to her. She didn't bother to turn around and glare. She didn't bother to speak. She didn't even bother to do anything but listen at the moment. It was like when she eight turns all over again and the village gossiped about the Werewolf attack and the death of her grandmother. They still whispered about that day sometimes when she was within hearing range. But this time, it was about who died a week ago. Not when she was eight turns.
Her daughter murmured to her to ignore it and ignore it she did. She couldn't focus on her secret village anymore. She couldn't focus on training anymore new recruits. She just wanted to lie down and sleep for the rest of her life.
I'm sorry, love, she thought with a sad sigh and looked up toward the weeping black sky to allow the rain to hit her face. I will not be able to keep my promise to you. Forgive me.
Her daughter could feel how sullen and withdrawn her mother became as the whispers grew louder around them. The small flame of anger when the whispers began became that of a wildfire as she suddenly turned to face the milling villagers gossiping in the village's main street. 
"Do you not have better things to do other than gossiping like old spinster women?" she spat as she held her mother closer to her, though she didn't seem to notice. Little Red was drowning in her grief, unable to see or hear what was going on in the world around her. The villagers had the decensy to look ashamed of their behavior as they quickly sped from sight not wanting to be in the rain anylonger and to avoid the venomous glare of Little Red Riding Hood's youngest daughter. 
Once she was sure the streets were clear of villagers whispers of the Werewolf attack on her mother and now deceased father, she lead her mother to her cottage and made her comfortable within her own bed before leaving for her recently married twin sister and her new husband next door. She didn't want to intrude on her mother's grief anymore than she already did. 
Get past your grief soon, Mama, she thoughts before going to bed that night. The entire village and your family need you in these dark times.
~*~*~
It had been three days since Little Red had last been seen outside her cottage at the outskirts of their secret village of Wolf Slayers. Three days since the funeral of her husband. Three days since her youngest daughter snapped at gossiping villagers. 
Her youngest daughter and eldest son, who was in his late thirties, decided to pay their mother a visit. They knocked on the wooden door three times before entering as was their family custom. They found the main room and kichen to be empty and clean to their surprise. 
"Mother?" the eldest son called out as they made their way father within the small cottage. They passed the three rooms that all the children slept in once before stopping outside the closed bedroom door of their parents. 
"Mama. are you alright?" the youngest daughter called next before grabbing the handle and turning it. 
"Mama?"
"Mother?" 
They opened the door to find blood and flesh splatter all about the room and walls. The red cloak that made their mother famous lay in shambled on the bed as the head of their mother, her eyes wide and her mouth open in a forever silent scream, lay at their feet as the youngest daughter let out a bloodcurdling shriek of terror before fainting against her brother who was pale and sickly looking. 
Their mother was murdered the same way as their beloved father. She was killed by a wolf.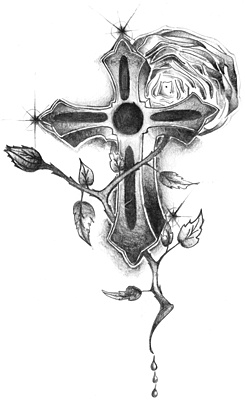 © Ricky P., Natchitoches, LA