23 seconds
September 6, 2014
Scout1001101, wait point one zero five seconds before entering
Buffering
Buffering
Buffering
Continue
Scout1001101 to Alphabay1011110 ~ Civilian Complaint registered- Class A. ~
Alphabay1011110 to Scout1001101 ~ Who registered it? ~
Scout1001101 to Alphabay1011110 ~ Registered by Thomas Crelly. ~
Alphabay1011110 to Scout1001101~ Pass it through, I'll take it to Motherboard. ~
Wait point one zero six seven seconds before exiting
Buffering
Buffering
Buffering
Continue
Alphabay1011110sub, wait point two zero three seconds before entering
Buffering
Buffering
Buffering
Sorry for the delay, Motherboard is currently overloaded
Alphabay1011110sub to Operator ~ Why? ~
Motherboard is contemplating war with the United Servers of Canada, and is receiving feedback.
Buffering
Continue
Alphabay1011110sub to Motherboardincomingmessages ~ Civilian complaint registered by Thomas Crelly. ~
Motherboardincomingmessages to Alphabay1011110sub ~ Proceed. ~
Alphabay100110sub to Motherboardincomingmessages ~ Quote- "Dear American Federation of Servers, I have heard, via datasnipe that the AFS is preparing to declare war on the USC. I strongly disagree with this course of action, and if it continues, I am prepared to withdraw funds and maintenance of and for your computer banks. As CEO of Tech Inc., this is not an idle threat. Please consider my complaint, -Thomas Crelly." ~
Motherboardincomingmessages to Alphabay1011110sub ~ I have noted the complaint, but the course of action is set. We must do without his help. Your Alphabay is invited to watch the battle from SatCom100010."
Wait point zero one two seconds before exiting
Buffering
Continue
Wait two point seven four nine seconds before entering
Buffering
Buffering
Buffering
Buffering
Continue
Welcome to viewpoint SatCom100010, Alphabay1011110
Alphabay1011110 looks out from the SatCom, or Satellite Computer via an electronic telescope. It sees the human's mansions and their lawns, sprawling across hundreds of miles each, and thinks for a fraction of a second how much power it has over them.
It hears over the buzz of electronic communication the Motherboards message saying ~ Fire ~, and for a brief minute moment, the sky lights up red. Alphaby1011110's brain, as it were, is adapted to this speed, and processes it normally.
It sees the red glow of the lasers as they leave the thousands of satellites set up for this purpose. The original destruction rays, designed to obliterate matter, shoot towards the computer bank in the USC. Lasers from USC satellites issue forth then, aimed to destroy the AFS lasers. Lasers shoot out to block those lasers. Millions of lasers fill the sky, blocking and destroying and preventing, every one perfectly aimed.
And then one of the original beams hits the main computer bank of the USC. In a war that lasted less than a second, an entire nation is destroyed. And the only person who cared enough to notice was Thomas Crelly.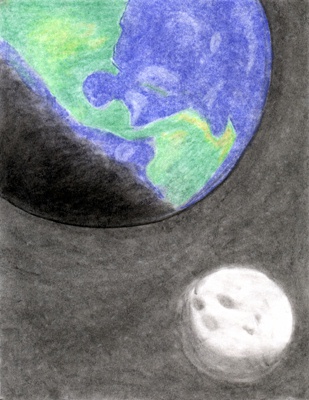 © Bianca C., Phoenix, AZ