Unfiled and Undestroyed Letters to Humanity
April 19, 2016
The ocean is not a calm and beautiful thing that belongs in pictures of paradise.
It is a range of untamed mountains, shifting and churning so that no map-maker may ever describe it.
It is a terrible thing. It is an inspiring thing.
It is where I live.
You said the people who'd be reading this have never seen my likeness before. I find this remarkable; I can speak your language and call many of your objects by name. I observe and learn by watching from the caves and outlets along beaches and coves. How then, have they not seen me?
Still, they offer me a name which they believe can describe my species: mermaid, siren. I deny your offer. I am unnameable, as shifting and transforming as the waters which I thrive in. Do not limit me to one phrase in order to comfort your fears. I am a horrible creature. I am not a beautiful thing, and I am not what you think I am.
I find it cruel that you give me the choice to write these or be taken away. I also find it incredibly immature. We kill the immature here. They cannot be trusted and they will not survive.
However, you have given me the upperhand. I could be lying to you. I could be telling the truth. But you'll never know because I have the power to write whatever I want.
You'll probably take that out before you give it to the papers. The shore-dwellers will not hear half of the words I put down.
Nonetheless I will be frank and honest with you to prove I am superior to your race in even the smallest of scales.
Welcome to the ocean.
Welcome to the life that I have lived forever without you truly knowing.
Welcome to the deep.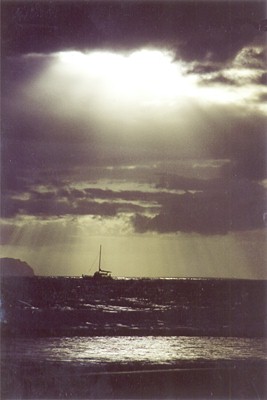 © Lily H., Kekaha, HI