Calling Through the Cage
July 29, 2016
The man had me locked in a cage, and I wasn't going anywhere soon.
The bars were thick and black as tar, and metal thorns of gigantic proportions wrapped around each one. I thought I was doomed for entering the lair of the vampire, for being a human made of flesh and blood.
I looked around frantically and felt my heart beat faster. All I could see were torches along the walls, dim and hardly giving off any light. Somewhere in this decrepit room, maybe even in the cage beside me, the menace lurked like a spider. 
I looked down at the scatter of bruises along my legs, along my arms. It was too dark to really see them, but I felt each one ache as I shuddered. I heard a voice laugh and felt him grin. 
He liked to play with his food, it seemed.
I asked myself how I'd gotten there. It had been only a day before that I was laughing with my friends at school, not entirely bruise-free, but healthier than I was now. I'd been doing my part at band camp, just joking around at times and then being all serious about color guard.
I wheezed and hunched over in pain. My ribs throbbed in my hands.
"Am I any sweeter when I'm hurt?" I called out irrationally. "Does it feel good to torture me?"
I was met with another punch that sent me whirling to the ground a few feet away. I was again reminded of how evil this creature was, despite its beauty and charm. Like the devil in disguise it tricked me and now it was going to kill me.
Suddenly the little light I had in my chamber was gone. With a flick of his arm, every torch was subdued. I made myself look strong and ran blindly into the night-like substance around me. Could I call it darkness when it was already so rich before?
"Yes," a smooth voice called out. "Bruised tissue is easier to pull apart."
I felt like crying, screaming. I felt my face grow warmer, my body tremble, and the ground begin to blur around me. I could hardly tell which way was up and down by the time I felt him behind me.
"Shhh," he cooed. "It's too late for that now. You're completely mine. No one will save you. You cannot escape. I know, I know. I've done this many times before. Now turn around and I'll make it quick."
I c***ed my body to the left and lunged into a hard throw as I rotated my torso. I hit him across the face, but he merely laughed and grabbed my wrist. I dreaded what came next but did not doubt it was coming.
Slowly, he twisted it until I felt a searing pain overtake my whole arm. He dropped it, and I fell to my knees, clutching my broken wrist.
"Are you finished yet?" he asked teasingly. "Because I am fully prepared to kill you against your will, and I promise it will not be as gentle as that."
I was weeping now, overtaken by fear and anger. He leaned down over me and very slowly pushed my shoulders to the ground so that I was unable to move. I struggled and asked him why he was doing this, and told him I wasn't ready to die.
He began to do what I thought was kiss me, but a few seconds later I realized he was sucking the air from my lungs. I fought even harder to escape, pushed and kicked despite my injuries. I was crying even harder as the world slowly flitted away from me, bare and without any love around me.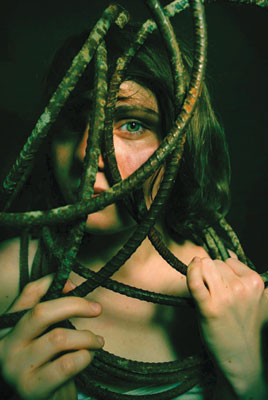 © Narongsukchai T., Sachse, TX