The Internet White Whale
December 6, 2016
"An empty canvas is a living wonder...far lovelier than certain pictures."
- Wassily Kandinsky
Cubo
Minecraft Fanart Forest, Spring of 2012.
In a connectree forest dwelled all sorts of creatures, but in the year of 2012, the forest was at its most diverse, but not only had the fan art denizens of this forest had evolved into a variety of wonderful and bizarre creatures, but at this time, many of them became horrible and vicious, especially since these same creatures began to attack those surfing the web, the pastel animal or humanoid shaped beings called users. These users would sometimes venture in the connectree forests to browse, often having no idea the monsters were nearby.
These user-hunting monsters were strange humanoids tall as a ladder and as dark as night. They had equine heads and they were called Endbalangs. Sometimes, they were nice to the users, as they sometimes ignored the users or picked a fruit or a leaf that was out of reach, but other times, they chased the users down in merciless persuit.
They were also short statured cat people with two wired tails who either patrolled the forests for good or bad. Either as anti-viruses who killed bad profiles with their arrows, or they were malware creatures who hunted after users like enraged tribesmen.
They were blocky creatures whose skin was like rubber colored a nightmarish shade of neon green. These same creatures resembled a cross between a stocky antelope and a lion, and they silently sneaked up on innocent users with a gaping mouth, and the terrible beasts, called kammapas, would eat their victims alive.
They were adorable reptilian cats with beautiful gemstone growths in their heads. They lured users with thier ruby headgear and either scared the users off with a light beam that seemed to fool the user into thinking it exploded or bit the users with poison filled fangs. These creatures, known as carbuncles, were only friendly to the morally good users, and other monsters.
The worst fan art beasts at the time were the trauma-ggalans. They resembled pale green Minecraft creepers with big, often white eyes from the gilled "neck" up, and from the said section down, they had black tentacles with little white claws instead of suckers and used those hideous tentacles for electrocution and digestion. The weird creatures hovered about and spent their time in the connectrees, which was where they waited for their next victims, that used to be everyone except for the neighboring monsters.
There were still lovely creatures in the forest at the time, and one was a beautiful comic-lope named Cubo. He was a real work of art, with thin gray lines gracefully traced on his paper-white body, which was graceful even without the lovely pattern, as some would say, and he had simple but lovely jet black, somewhat pyramid-shaped horns on the top of his head. Cubo contained plenty of artistry, but no smut, especially compared to the other, more rude, fanart monsters that lived with him in the blue and white connectree forest. Cubo was exemplary in temperament as well, for he didn't feel an impulse to kill the user-animals like his more aggressive neighbors, and for those reasons, the glowing user-creatures hated the deformed and brash predators and loved the graceful antelope, but despite their (the fanart monsters') differences, these blocky creatures were like one big happy family.
But one fateful day, something terrible began to plague this happy bunch. A group of ridiculous-looking Youtubers came and captured many of the predatory files (especially the ones that looked like exaggerated Minecraft creepers) for an unknown use. The monsters that escaped the Youtubers' foul clutches ordered Cubo to hide in the very center of the forest, where he was to be guarded by the meanest images in the forest, and that was where he stayed for many years.
One day, a badly corrupted file came to the forest and told everyone in it what had happened to him. He was shipped to a factory-like Youtube studio called Parodee Studios, where he suffered plenty of torture and his horrible ordeal was filmed and posted as a Minecraft animation. To make matters worse, he told all the monsters that many of his fellow prison-mates have been brutally annihilated by these awful Youtubers and their "friends". He said he barely escaped and would have suffered the same fate had it not been for the other surviving prisoners. On his way back to Fanart Forest, plenty of user-creatures began to harass him.
"I never knew they could be so mean!" the file sobbed.
Then the image monster continued and said he found out what these blasted creatures were trying to do to him. For revenge, or because they had a bad sense of humor, these sadistic creatures were trying to return him to Parodee Studios. Some have even reported to the Parodee Youtubers, which explained why he came to his neighbors in a hat and robe. He showed his scars to prove everything he had said. All this caused an uproar of screams and gasps.
A tall Endbalang smashed his hard fist into the trunk of a connectree, "Those no-good sadists! How dare they!"
A trauma-ggalan buzzed her tentacles and caused her gills to expand and her green blocky head to turn gray with anger, "I'd kill them! Those creeps deserve electrocution!"
A wire-tailed nekomata yowled, "I never thought I'd hear of someone who's worse than my cousins back in Japan!"
A compassionate little carbuncle cat squeaked, "How could they do this to you?" and a kammapa cried about never seeing her family again. Everyone was upset, especially the princely Cubo.
Cubo crept to the edge of his home forest to see things for himself, and found out that every word the escapee said was true! Hideous video clips repeated the pain the captured files had gone through, the user-creatures got excited at the sight of this horror, those sadistic videos gained popularity from the user-animals (Cubo could definitely tell due to the thumbs up icons that appeared over the users' heads), and caused more and more of these videos to appear. Many of them showed extreme and rather pointless gore and terribly unnatural smut.
After he saw all of this, Cubo was angry those video-making fiends were getting away with this. He wanted to get revenge, and after he remembered how the users fawned over him, whether or not they were getting mutilated by a bad file, he knew exactly how.
Chris Woolf
I was hoping this would make my search easier.
Entering the search-engine-turned-into-dimension known as the Internet at first seemed better than constantly embarrassing myself looking up the same thing over and over again just to find one of my beloved articles, only to find harrowing images every time I went searching, and just to let you know, this problem of mine began three years before the "Internet Into Reality" program started, so when I heard about it, I immediately wanted to be one of the first to sign up.
This wasn't some sort of virtual reality with those controller things that look like oversized binoculars. Instead, there were these pod-like structures made of glass tubes in a big laboratory at the local college. Plenty of computers and machinery, but mostly computers, were attached to the glass tubes. Scientists and students went this way and that, for they were getting everything ready for the experiment. The scientists told us we would be in this dimension for a few hours (if they could really transport us to the Internet), and, well, I didn't pay attention to the rest of their orders and cautions because of my daydream of finding my favorite online comic at last, but I did remember that we had to get back to the same place we would appear at in order to return, thanks to someone who nudged me out of my musing.
The only people who weren't busy spitting out orders and scientific mumbo jumbo and changing settings on the computers and whatever were the eight other volunteers, and they said that something happened to the ninth, but at the moment I didn't care, for I was eager to go, and I made sure was the first one in. The other volunteers entered the other pods after me and we all waited for the scientists to hurry up and transport us into a new dimension.

"3...2...1... Now!"

After one of the researchers changed some of the settings on the controls and pulled a lever, there was a bright light, everything faded into a blinding shade of white, then silence.

At first, I almost forgot what I was doing here, then I realized I wasn't in the lab anymore. I found myself and the eight strange slightly glowing figures standing in a mauve plaza. It took me a moment to realize that the pastel colored and somewhat geometric beings were the volunteers, and I looked the same as them, but I was a shade of aquamarine instead of lilac or white or light green. Outside of the plaza was a white and light blue field with strange entities that zipped here and there, tall treelike structures with square leaves and wire-like veins that buzzed with info or updates (I called these structures connectrees), some other places were comprised of dark blue walls with circuits and pictures. I guessed the labyrinth walls are big websites or Youtube channels. I wasn't too sure.

As I gazed at all of this in wonder, I wondered what should I do next. Hmm...What else is around here?
The others seemed to be thinking the same thing, then they sped off in different directions. I decided to slowly walk around to take this all in.
After thirty minutes of wandering, I came across a few other structures in the Internet-scape. There were some buildings that looked like plazas and coliseums and marketplaces, and some of the entities were in the shape of glowing animals; birds, deer, wolves, cats, you get the idea. I then wondered if there was more to see when--

There it is. It can't be!

A cute blocky antelope, the color of graphite and paper, with a face like a Minecraft creeper. The little guy then unfolded itself until it became a familiar image.
That comic! A wistful voice cheered in my mind, all this time I wasn't able to find it by using a search engine for three years and I came across it in the first thirty minutes I came here! I was amazed, but then the adorable creature reassembled back into its original form, wagged a short blocky tail at me and made a run for it.

I screamed "No! I just found you!" and made a beeline for the antelope's trail.

The creeper-faced monster stayed 12 feet away from me the whole time, and made all sorts of zigzags and sharp turns. Through jungles of connectrees to plazas and whatever we ran, and the gazelle galloped into a labyrinth with televisionlike screens that decorated the blue walls. The antelope sprinted its way into a dead end, and at first, it looked like it didn't have anywhere else to go.

"Ha ha! Got you cornered!"

That creeper-lope did something I didn't expect. That little antelope got a mischievous look on its face, turned as thin as a sheet of paper, and then disappeared into the wall behind it. I almost pounded on the wall surface in despair when my eyes met a hideous image. Like I said before, almost every time I searched for that article, stuff like this came up instead.
That video thumbnail was so disgusting I staggered back in horror and fell and nearly landed on one of the other thumbnails decorating the labyrinth walls. I immediately let myself fall flat on the floor instead of touching that gallery. Since people could get transported into the Internet, I don't want to find out if I can get sucked into the profile of a wicked Youtuber. A nearby music channel must have had a video played by one of the volunteers, because as I felt sorry for getting my hopes up so high, I heard Imagine Dragons' song, It Comes Back To You, play a short distance behind me. I felt what I have done wasn't worth my time, and the song wasn't helping.

After I got up, I decided to quit this mess and go home, but then I heard a raspy voice growling and yelling. The dry hissing sounded like it was nearby, and after I figured out which direction that awful voice was coming from, I ducked for cover and kept an eye out and hid behind a corner. I still didn't touch that wall.
A particular image down the hall shimmered, and at the same time, I heard grunting noises, and the image stopped rippling for a moment. Of course, it had a thumbnail of a Minecraft parody featuring an ugly white-eyed creeper. The image shimmered again, this time a bulge began to develop, then something flew out and landed on the floor. It looked like a cross between a dark blue killer squid and that ridiculous monster I just mentioned.

"Nyarrrgh! I QUIT!" It yelled as it shook one of its tentacles at the thumbnail, as if there was someone else behind that image, and I found out there was someone behind it. That image must have been a portal!
A red-haired character in a gray and black suit came out and grabbed the freak by its tentacles.
"Well ever since your friend escaped we need more prisoners--performers! You are not going anywhere!"
The fight was an ugly one, with punches thrown and bites delivered and inhuman shrieks from the monster along with the fullisade of cuss words from the orange-haired weirdo. In the end, the freak won, with the killing blow coming from its tentacles, which could electrocute! The monster laughed like a psycho and revealed its unnaturally white, perfect, but sharp teeth while the unfortunate man tried to escape, but the fool ended up disintegrating into pixelated nothingness.
After I saw that monster kill that red-head, I didn't want to stick around to see what it planned to do next, so I had to look for a different route to get out of the maze. At that point, I really wanted to go home. Luckily, I remembered the route that creeper-lope took in coming here, but by the time I got to the end of that corridor, I forgot where to go next. All I could do was follow my instinct and hope I could get out of here.

For a long while, I had been going through that maze, and for most of the time I was trapped in that maze, I kept on sensing things were too quiet. After I saw that flying head electrocute someone, I feared I would run into something even worse. That was the only time I was grateful for those stupid images on the walls of the labyrinth, since they could only disgust me, not kill me.
After what felt like a long time, I began to trust my instincts less and less and feared the possibility that I would never get out of the maze when I saw weird red lines etched in the blue circuit board pattern on the labyrinth walls. Then I noticed the red color was spreading.
Out of curiosity, I followed the red pattern (which looked like red curcuit patterns) until I almost stumbled upon the source. That was when I learned I was in more danger than I thought.
I was close to the big blocky splat of red material when I saw this tall scarecrow-ish thing hunched over a broken-up part of the obstruction. I dived for cover again, and watched at a safe distance. This monster wore a robe and a ridiculous wide-brimmed hat, so it looked more like a witch than a ghost. The monster was tall and thin and had claws about eight inches long, and it was destroying a small part of the bulwark by clawing at it and biting off a few pieces. Its face was mostly hidden by both a thick scarf and the shadow of its witches' hat, but I could describe the mouth as it was similar to that of a shark, to say the least.
I guess I leaned too far from the wall, so that may have explained how that funny-looking fellow spotted me. The second it realized that someone was watching, that skinny freak grabbed me in what felt like a half-second. I still couldn't see that scarecrow's face, but something told me I wouldn't want to.
I don't know why I asked this question, but I did anyway, "Wh-what are you supposed to be?"
The scarecrow growled and yanked something out of a circuit wall. It was a website page from an electronic encyclopedia. The title of the page read, Boruboru: Terrible Japanese Revenant or Spirit of Cowardice?
I dumbly replied, "Oh, so you're a boruboru."
A second later, I guessed that I just gave the creepy fellow an idea, but before it could even put that into action, something slammed into the both of us and sent me flying. I heard a familiar hissing voice behind me: "That one's going to replace me! Not you!"
The chase was on. Both the skinny one and that white-eyed creeper chased me, and argued on the way. More and more monsters popped out of the walls and hidden areas and joined in on the hunt. Most of them were bizarre to look at. One, who resembled a disembodied head of a cat with a detached flaming tail that trailed behind it sprang in front of me and emitted a disorienting blaze of light in an attempt to stop me, but I ducked in time. I kept running and running in zigzags in a desperate attempt to throw them off.
Finally, I saw the exit.

It was just my luck too. I realized they were gaining up on me, so I tried to get myself to speed up. Something grabbed my leg and I tripped.
It was that white-eyed freak. It got me with one of its disgusting black tentacles, and its hideous dark green face wrinkled with triumph, and as its already creepy eyes turned red, it barked, "Gotcha!"
Another, heavier weight landed on top of me, then another, and another.
I couldn't move.
This was the worst part for me. After getting bitten by one of the scary creatures, I saw that devious antelope. That gazelle stood there at the exit, and mocked me with an evil smile. That was when I realized that this was no accident. It meant to do this to me! I got bamboozled!
"Help me!" I cried. The antelope's face changed to neutral. I thought maybe the creature was changing its mind. It stood stock-still for what must have been only a few seconds, but to me, it felt like a long time, despite the fact that some of my subjugators were still trying to bite me. It seemed as if the antelope was wondering what was it doing, why was it making an innocent person like me risk his life for wanting to meet it?
But then that good-for-nothing swine beamed a sinister fanged smile at me and pranced away. That monster left me to suffer.
"I will get you for this!" I scratched at the floor to escape. I realized that my voice has changed, as it had gone deeper and more throaty. I felt different. I stared at my hands in horror as they turned into claws. I was so shocked that I fainted. For hours, I lay on the ground unconscious.

The moral of this story is don't let those white whales get the better of you, it's more dangerous to pursue it than to forget it. Another thing I learned is the Internet is a treacherous place in both meanings of the word. I've learned both morals but this hasn't ended. Not yet.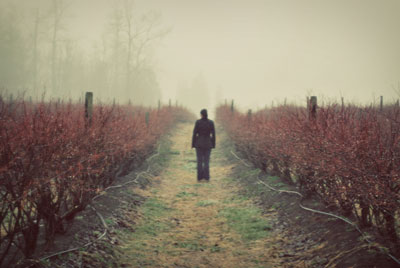 © Molly H., Lynden, WA