Azalea and Mercusio
May 25, 2012
Mercusio and Azalea are alone sitting in the meadow deep in the Voranian Forest. Mercusio was reciting one of his Love poems to her.

Mercusio: Oh Azalea, how I love you. your beauty is so rare, and it poisons me to be around you... but I can't let that keep me from being totally in love with you. Thou lovest is the only thing that keeps my blood flowing. Thou hast made me feel more like an angel that loves to live life. Thou beest the only beauty and love I know.

Azalea: Oh Mercusio... you do know how to make a girl's heart melt.

She stands up, and he does the same.

Mercusio: (grabs her hand). I remember the first time I met you. You were the most beautiful girl I ever seen. (kisses her on the forehead)

Azalea: and when I met you, I thought you would be a regular guy... But no... your better than that... your Sexy. (She flips her hair, and kisses him on the lips).

Mercusio: (As he's kissing her) I love you... and I think you're sexy to. Thou beest the only woman I will love.

Azalea: You are such a Romantic.

They continue kissing passionately.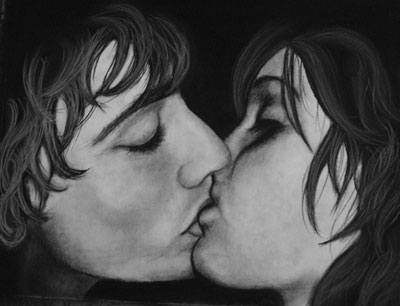 © Anna Y., St. Robert, MO