Cariston High Act 1: Scene 1
July 2, 2012
Fe, Ray, Anais, Vince, Parker, Heath, Sutton, and Preston are heading towards the cafeteria to have lunch.

Topic of the day: The awesome concert The Suns performed last night.

Anais: You guys were killer last night!

Vince: Thanks babe. (He kissed her on the cheek.)

Fe: (laughing) Ray, I almost jumped on the stage when you went into that falsetto voice in "Baby Tell Me."

Ray: (laughing) Funny, cuz I think I saw Eleanora, Perla, and Valentine jump up there... They nearly took my shirt off all the way.

The song "Baby Tell Me" was also the song where Ray and Vince opened their shirts, and showed of their sexy yummy abs. And they did sexy dance moves while playing their guitar and bass.

Fe: Well if it was them, it's cute, as long as it wasn't... Oh No.

Stacey Kristine. She was the meanest girl @ Cariston High. Fe hated her, because she was always trying to steal Ray from her. Stacey was with Tiffany, Traci-Anne, and Tasha.

Stacey: Hey guys... (turns to Ray) Hey Raymond. (She winked at him).

*Ray hid his face in his arms*

Fe: (looking at Stacey) Do you have anything better to do?

Stacey: Yeah I do. But I rather bother you guys first.

As usual. Stacey had on black yoga shorts, and a "Love Pink" crop top from Victoria's Secret. She had a diamond belly button ring.

Anais: Wow Stacey, is Victoria's Secret the only place you shop at?

*Stacey looked at Anais and smirked*

Stacey: Yes. It is the only store I shop at, because I don't shop at old people stores such as JcPenney or Kohls.

Fe: Wow. That was offensive. towards JcPenney, Kohls, and old people.

Traci-Anne: You know, I think I saw Fe in Victoria's Secret last Saturday.

Of course. Traci-Anne McConnell, the b**** to always spread some type of gossip. She also was wearing yoga shorts. She had on a purple tank top which had the "Love Pink' Slogan.

Fe: Yes, I was in there. But I was buying WORKOUT Clothes! I do Zumba on Saturdays.

Ray: It's true, I've watched her through my window.

*He took a swig of his water.*

Fe: (laughing) No you don't.

Ray: But I do. and I think the way you shake is amazing.

*He winked at her, then kissed her on the cheek.*

Tasha: You guys are gross!

Tasha Trenton: The b**** with Swag. Always taking the most provocative photos, and in them she's always making gang signs. She too was wearing yoga shorts and she had on a super tight low cut crop top that showed off her cleavage. She kept on trying to bend over for Preston, who without hesitation, slipped his head in his jacket. Sutton scowled at Tasha.

Sutton: Leave them alone Tasha.... and GOSH D*mmit Girl put some clothes on!!

*Tasha laughed as she stood straight up and put her hand on her hip. *

Tasha: Better watch yourself Sutton, You don't know what I'm capable of.

*She winked at Preston*

Sutton; (getting up angrily) You little...

*Preston grabbed her.*

Preston: Sutton, No.

*Sutton looked at him and he gave her a look. That calmed her down.*

Stacey: (smirking) let's go guys.

*Stacey, Tiffany, Traci, and Tasha walked to the table on the other side of the cafeteria.

Fe, Ray and the others watched as Stacey and Tiffany began making out with Ben Travis, and Terrence Princeton.*

Ray: Well. Glad that's over.

Fe: What does that chick want with you? (turning to Ray)

Ray: Oh you know. She's wearing short yoga shorts, skanky crop tops, and she has a belly button ring... She's trying to turn me on. Yeah, she's trying to get me to cheat on you...

*He paused then he gently grabbed Fe's face.*

Ray: But I would never do that, because I love ya Fe, you're the only girl for me.

Fe: Oh Ray.

*They Kissed.*

Then they continued eating their lunch.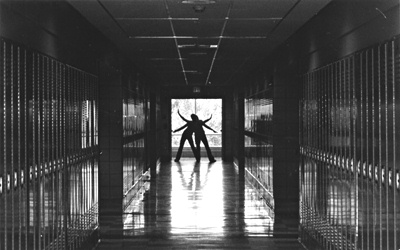 © Sheera G., Marblehead, MA