Cariston High Act 2: Scene 1
July 2, 2012
Ray and his mom had just gotten home. When they got inside, Ray tossed his book bag on the ground, and rushed to lay down on the couch. His mother sat on the ottoman next to him.

Reyna-Jean: So what's bugging you Ray?

*Ray explained what had happened.*

Reyna-Jean: (grabbed Ray) Oh my poor darling boy!

*They both began to cry.*

Ray: (crying) I miss him so much mom.

Reyna-Jean: (pulled him in closer) I know. I miss him too!

*She released him*

*Ray got up*

Ray: I'm gonna go to my room.

Reyna-Jean: OK. I'm gonna make pizza, do you want me to bring you up a slice?

Ray: (on the first step) Sure. Thanks mom.

Reyna-Jean: Your welcome sweetie.

*She smiled. Ray ran up to his room.*

Ray's room was like any other bedroom, a bed, a bookshelf. His guitar was laying against its amplifier. A picture of Ray, when he was 11, and his dad was hanging on the wall.

*Ray grabbed his guitar, he sat on the floor and began strumming it. But suddenly it was to painful to play. So he hopped on his bed, pulled up the covers, and lay in bed. He eventually fell asleep.

*Ray woke up hearing a knock on his door*

Ray: Come in (he choked)

*His mom walked in carrying a plate of Hawaiian pizza.*

Reyna-Jean: Here's your pizza kiddo.

Ray: Thanks Mom.

Reyna-Jean: Your welcome sweetie.

*She walked out of the room*

*Ray began eating his pizza*

Reyna-Jean: (popping her head back in the room) Oh. your girlfriend, Fe is here.

Ray: She is. OK. I'll be down there in a minute.

Reyna-Jean: OK, I'll tell her you're coming.

*His mom closed the door, Ray continued to eat his pizza.*

Down stairs, Fe was sitting on the couch. She too was having a slice of pizza.

Reyna-Jean: Ray will be down shortly dear.

Fe: OK. thanks Reyna-Jean.

*Reyna-Jean smiled*

*Just as Fe took another bite of her pizza, Ray walked in.*

Ray: Hey babe (He sat down next to her)

Fe: Hey. I came to check on you. See if you were alright.

Ray: Thanks. Yeah I'm alright.

Fe: Are you still having everyone come over?

Ray: Yeah. I want to get started on the new song.

Fe: OK. Vince said he and the others will be here around 5... I asked my mom and she says I can stay here.

Ray: OK.

*They continued to talk, and laugh. Then they made out for awhile.*

Ray: (getting up) C'mon lets go the band room.

*The two walked down stairs.*

The basement, or should I say band room. This was where The Suns practiced.

Ray: Oh shoot! stay here babe. I have to get my guitar.

*He raced up stairs. It didn't take that long for him to bring down his guitar. He didn't have to bring down his amp, cuz there was already one down there.

*He laid it next to the amp. Then he sat next to Fe on the couch.*

There was silence for awhile.

Fe: Hey, I'm sorry I unbuttoned your shirt. (she laughed)

Ray: (laughing) Yeah, I was like "Fe, what are you doing?

Fe: Sorry I can't help myself, your just so Gorgeous Ray.

*He got closer to her*

Ray: You're gorgeous too.

*She giggled. Then they started making out again, they made out for 12 minutes.*

*Vince and the others walked in just as Ray and Fe continued making out.*

Vince: Hey Ray! You didn't tell me this was going to be a make out party!

*He grabbed Anais by the waist and they began making out. Parker and Heath, and Sutton and Preston began making out too.*

Ray: No. C'mon guys lets get to work.

*No one said anything. They continued to make out*

Ray: OK. we'll get started.... After we make out.

*He grabbed Fe again and kissed her harder.*

They all continued to make out. Finally they stopped.

Ray: OK guys let's get started on the new song.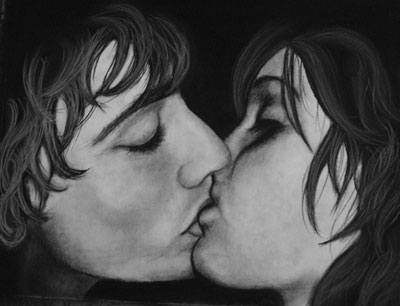 © Anna Y., St. Robert, MO