A talk with God
February 4, 2016
Me: Hey God.
God: Hello Daniel. It's good to see you again. How are you doing?
Me: To tell you the truth, I am struggling a lot in your word. There are a lot of questions that seem to have no answer.
God: Like?
Me: Like, why couldn't you have destroyed all sin at the start? Had you done that, I wouldn't have to be separated from you.
God: Daniel, if I told you to go up to a girl and make her love you, would you be able to do it?
Me: No, of course not.
God: Why not? Didn't I make you a handsome man?
Me: Yes, but I really wouldn't care for her and second she might not care for me and third, it would be against her will and the love would not be genuine.
God: Thats right. Had I not created Lucifer, had I not given him free will, had I not created the tree of the knowledge of the Good and Evil what kind of love would I have from my people?
Me: Not much, I guess.
God: I gave Adam and Eve free will so that their love, or disdain for me, whichever you choose, would be real.
Me: That makes sense. I wish it was easy to fight the Devil.
God: It is. What does my word say?
Me: 'Resist the Devil and he will flee.'
God: Once you have faith in me, whenever you are tempted with lust or dishonesty, all you have to do is say 'Satan, what you are telling me to do is wrong. It does not please God. Away from
me.' Are you okay? You look downcast.
Me: I am. God, I don't know my place and I feel like a nobody. I can't play sports well and all my
friends crumble when I bring you into the conversation. No one thinks I'm worth anything.
God: My son Jesus was a nobody. He was plain and did not look anything as a king, but he loved all mankind. I made you unique. You don't have to be like the jocks. I gave them muscles and I
gave you brains. Use them. Don't be afraid. Never shall I leave you nor forsake you.
Me: How much do you love me?
God: Did you wake up this morning?
Me: Yes.
God: That was by my mercy because I loved you. You could have died last week when your bus slid off the road. It was by my mercy that you lived, because I loved you.
Me: How much do you love me God?
God: Son, look at my hands and feet. I loved you enough to sweat blood on account of you. I loved you enough to be beaten for loving all mankind. I loved you enough that I wore a crown of Thorns on my head. I loved you enough to a cross to Calvary for you. By the wound in my side and the scars on my hands and feet, I showed the ultimate display of  love for you. Daniel, as I layed down on the Cross to die, I loved you this much. Do you love me back?
Me: Yes God, I do.
God: Then, today, you will be my son in eternity.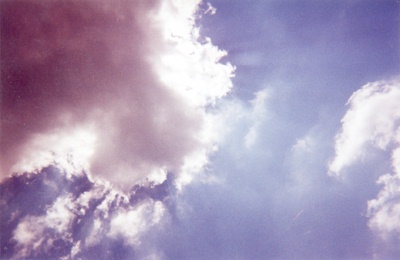 © Kena A., Huntsville, AL