Monsters Inside Me part 4: The Sun is Beginning to Set
April 1, 2019
Two hours later, and we're heading to Virginia in a not-so-conspicuous all black, hulking Mercedes suv. My hands are still cuffed together, and my leg is chained to the seat. There are no door handles back here. Only speakers blasting the most irritating disco music. Would killing someone in a disco- induced rage count as self defense?
If this guy is right, then I didn't kill that little girl. Or the officer. That means I'm not evil, or crazy. I'm still having trouble believing Duke, but he did get me out of the woods and away from the police. The hair on the back of my neck stands up when I think about anyone poking around in my head.
From what I can see through the heavily tinted windows, the sun is beginning to set.
"You have two options." Duke leans hazardously into the back to talk to me. "I can blindfold you or knock you out until we get there."
"Please focus on the road. Since my head is screwed up enough as it is, just blindfold me, I guess." I reply. I've had bad experiences with anesthesia in the past. Anytime someone tries to "put me under" as they call it, I wake up with painful migraines that last for days.
"Suit yourself, the knockout potion tastes like strawberries." Duke replies. "I love strawberries. Here, put this on." He throws me a blindfold.
I roll my eyes and put it on. I feel stupid. I can't see anything, not like I really care where this place is, I'm not good with directions.
Half of an agonizingly boring hour later, we stop.
"You can take off your blindfold now. And be very quiet, I have to sneak you in."
"What do you mean you have to 'sneak me in'?" I'm worried. This is weird. Shouldn't he work here or something? "What's going on?"
"I'll tell you later." He whispers dramatically. I can tell he thinks that I shouldn't know right now. Which. Is. Not. A. Good. Thing.
"Eh...I'll tell you when we get there." Duke looks anxious. And like a jerk, but I think that's just me. "You'll be fine".
"How do I know I can trust you? I've come this far. What you're saying makes sense...but I don't know if I believe you because of what you're telling me makes me not guilty."
He looks me in the eyes. "Kid, I'm not lying with you. Promise." For a second his confidence wavers. "I have a girl back home a couple years younger than you. I'm not lying."
"Okay."
"Be as quiet as you can. We're going in the back way. I will tell you everything."
"Okay."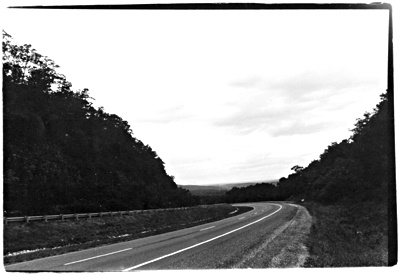 © Courtney R., Great Falls, VA