IS THIS A GOOD IDEA?
February 19, 2020
This is the terrifying story of the Alcott family, who shortly after birthing a newborn- begin to discover curious incidents occur around their farm house in New Carolina. Nothing is as it seems when a wintery storm crops up, leaving the Alcott family barricaded by the snow. With heartstopping scenes, and excruciating terror- the children must silence themselves and pray to survive. And with an unbearable twist that will leave you terrified.

Father: Lee Alcott
Mother: Evelyn Alcott
Daughter: Marion Alcott ( 14 years old )
Son: Jonas ( 12 years old)
Son: Macrus Alcott ( new born, about 2 month old )

ANTAGONIST:

Poe Willians: Suffers from Schizophrenia with substance abuse disorder ( which is a complex and severe mental health disorder that affects the individual's ability to think, feel and act. Often characterized by hallucinations, paranoia and loss of a sense of reality ) that was left untreated.
PLOT SUMMARY:

The Alcotts live in a small farmhouse in North Carolina. One day, someone leaves one of the houses windows ajar- and this is how it implies that our antagonist- Poe Williams, who suffers from Schizophrenia with substance abuse disorder, ( seemingly left untreated ) is told to have entered the Alcotts farmhouse. He conceals himself in the attic of the farmhouse, and taunts the family, and they soon believe their house to be haunted. One weekend, when their father- Lee Alcott, is away on buisness- Poe attempts to murder the children; Marion, Jonas, and Marcus, and their mother- Evelyn. And when they frighteningly try to escape- they become barricaded by the wintry snow storm. The doors won't budge, and the windows won't widen. . . this is blood curdling horror that would undoubtedly leave you terrified.

WHAT DO YOU THINK?

Do you consider this to be a good plot concept? What are some things I should add to "spice it up?" Please let me know in the comment section below. . . .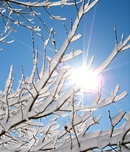 © Barbara S., Hoffman Estates, IL