Why, She Asked
September 22, 2009
"Why do you love me?" I stared blankly at my lap, my eye's unblinking, my oily hair hanging around my face in pathetic ribbons.
Jacob stopped halfway at closing the refrigerator. The milk carton hovering in the air, just above those lips...those sweet, soft lips.
"W-what did you say Babe?"
"Why," I repeated, my breath coming out in slow, strained drawls." Do you love me?"

Milk carton down. Refrigerator shut all the way. His feet shuffling over the cracking tile of our tiny apartment kitchen.
"Well, heh, you know." He seemed confused, slightly unsure of what to really say.
"No, no I don't know." It hurt just whispering to him. Jacob sunk into the chair next to me and took my shaking hands; his were so warm, I felt my mind draw back from my thoughts, No! No, I have to keep control.
"Baby why are you asking me that? You know I do." He tried to lift my face, but I shied away, hunching over so he couldn't touch me.
"Mary?"
"Why? Why did you have to tell me that you loved me? What could you possibly love about me?" I hissed. I felt the tears cracking in through my confusion, no, no don't break down now...
"Oh honey, come here, I love you for you, your eyes, that smile of yours-"
"Rot!" I shrieked." They'll all rot away when I die, and then what? What else?"
The tears were beginning to drip.
"Mary?" He said quietly. The silence seemed to hang so thickly, crushing me down. Just do it, crush me...please...

"Then...then there's your laugh, God I couldn't live without that laugh, and baby your so artistic, so creative!"
"A laugh! Hands!" I moaned.
"Well what do you want me to say?" The irritation in his voice stung.
"When was the first time you heard about love?" My head shot up, could he see the broken vessels in my eyes, this overwhelming pain that I wanted to vomit out?
"W-what? What did you say?"
"Love!" I screamed, throwing his hands away as I stood up.
"When was the first time you heard two people talk about love? It's an easy question just think!"
"I don't know Mary! With my parents I guess,"
"And what did you feel when you heard them tell each other that?"
"I-I felt...I don't grossed out? maybe...maybe a little-"
"What?! What did you feel? Say it!"
"Left out I guess, since I knew it was a different kind of love they had for each other, and I didn't have that love, so...so I-I-why are we talking about this? Have you gone insane?"
"Shut and listen to me! Left out, yes that's exactly what you felt. that's the only true emotion we've ever felt as humans. We, us, are always striving, why? Why are we born with that one from the very beginning? Do you know why?"
"No, Mary just sit down!"
"NO! There's something missing in us, I can feel it, a hole taken from right here," I let out a sob as I clutched my chest, grabbing a fistful of shirt as I shook my head.
"Here, the heart, or the brain maybe-I'm not sure, but...we feel, anger, yes anger, jealousy, hate, sadness, but why? How is it possible to have emotions, how do we feel? Is it something mental? Are we all trained like monkeys, will we never find out what we really are?"
I was falling to the floor, white and black tile rushing up to greet me. Help...please.
Mary! Mary wake up!
A murmur it seemed, growing louder, and that awful roaring in my ears, make it stop! I wanted to clap my hands over my ears to block it out, but I couldn't feel where my normal placements were. Tingling everywhere, like a thousand grains of sand boiling in my blood. I think I was shaking, everything was jerking wildly, a violent thrashing.
Silence. No breath.
"Mary!"
Open eyes. Glassy. Dead.

Shhh...you're going to be just fine baby.
His voice. Jacob?


I awoke in a darkened room, covers drawn up to my waist as I was turned to the wall, a frame placed downward. I couldn't move at first, my body felt weightless, numb. Where was I? The place smelled so musty, so unfamiliar...
As I slowly sat up my spine and wrists crackled with sleep. The saliva caked around my mouth felt sticky and strange. A large rectangular window on the left side of the room was covered over with a blanket, stray fragments of lights seeping through around the edges.
Goldberg Variations playing far away in some other part of the building...
One blink. Two.
This was my room, our room. But where was Jacob?
Slowly I got up,
Jake? I wanted to whisper.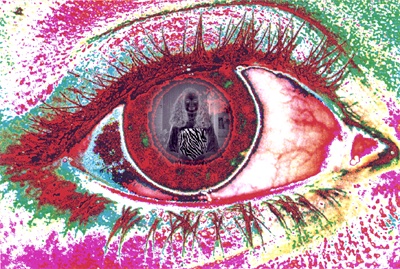 © Cassie H., Carmi, IL