Boxed In
October 24, 2009
Handing me her credit card, my mother smiled at me, and walked through the doors of Neimans. I stroked the card softly, tracing my fingers over the numbers. My mother and I idolized the mall. It was a treasure trove of dresses, shirts, skirts, and pants. My mother always bought things that came with free gifts, hauling around the lacquered boxes, free samples, and perfumes, like a kid on Halloween, raking in the goods.

This time, I was going to get to shop on my own. I grinned to myself, and walked into the mall, running my hands over fabrics as I passed them. I sighed to myself, so excited about this great opportunity to buy whatever I wanted, with NO limitations. The first store I just HAD to go to, was Bath and Body Works.

Moving through the bustle of the mall, I was jostled between everyone, but finally made it to Bath and Body Works. I felt like a kid in a candy store, taking in the gels, shampoos, body washes, and conditioners. It was all so beautiful, and I inhaled the heady perfumes, and sweet scent of candles burning. I went to the candles section, and that's when the lights went out.

The store shouldn't be closing, but before I knew it, I heard the sound of the great security gate going down, and the flick of the light-switches. I should have been surrounded by darkness, but instead the candles burned strong, and I had a good look at the four people who had apparently shut down the store. I saw crowds coming around the store, and heard the sound of sirens flare in the distance. I knew this sound, I had always heard it as a child, when the neighborhood had been so unsafe. This made it seem like this store was under attack!

I shivered, and got down on the floor, taking one candle with me. I looked up into the crowd, hoping that maybe, just maybe, my mother would be there, looking for me. I searched the sea of faces, not seeing a familiar one, and I felt...emptier inside.

"Everyone, GET DOWN," A voice yelled, and suddenly, all of the candles were blown out, except for the one I had taken. I had a good look at all of their faces. Three men and a woman. The man who looked most like the leader, had a narrow face, long nose, and thin lips. The woman looked eerily like Marilyn Monroe, and the other two men were fat, and ugly, probably hired hands.

"Put your heads DOWN!" A woman's voice yelled, and I burrowed mine under my arms. This could not be happening... The siren's screams got louder, and louder, and then several boots clicked on the floors. The police were coming in. I could hear rough voices shouting to the crowd, and the jumble of footsteps. Shaking, I quickly peeked up, to see that the robber's had covered the front gate with rough plywood, and what seemed like hundreds of telephone books. They had an inexpensive way, to try to keep the bullets out.

I held my candle tightly, praying for them not to notice the small light, but as the click of the woman's gleaming stilettos got closer, I decided to blow it out.

"This place has nothing of value Richie," A smooth voice said, female, and for some reason, I felt like I knew that voice.

"You never know Eve, maybe we'll get lucky. We can take a fun little hostage..." I heard another voice say, it was so rough... Eve, he called the woman Eve! That was my mother's name, and the woman robber was the only one I hadn't been able to see the face of. But it couldn't be my mother! No, no! She was too nice, too friendly...

"Hey, get that little brat by the candles, she looks like she'd raise a hefty sum of money from the city to get her back," A voice snickered, and I tried to back away from the candles. They meant me, and I would not be kidnapped!

"You got it Richie," Eve replied, grabbing me up roughly, then I heard her take a sharp intake of breath. She knew me, she knew she was grabbing her daughter, and she knew that she would still hand me over. I started sobbing, clutching my candle.

"Hey, Eve, shut her up," Richie said, kicking my legs. I cried harder, squirming, and trying to get away. "Jesus, Eve, if you can't shut her up, give her to me!" Eve started to hand me over and I got quiet, almost immediately. Richie chuckled, pulled my hair, and I let out a yelp.

"Be easy on her..." Eve said reluctantly. Yes. I knew that this Eve was my mother.

"Getting soft, Eve?" Richie growled, pulling me away from her, and pulling my head back.

"OW!" I shrieked, struggling to try to get away.

"This hostage isn't working out. Eve, you know the drill!" Richie laughed, and Eve reluctantly pulled out what looked like...What looked like a gun... My own mother was going to shoot me in Bath and Body Works. I sobbed harder, twisting away and holding myself, as she slowly pulled it up. Then, BANG! The bullet went through my left shoulder joint.

I felt shocked and surprised at seeing my blood: the sudden horror of the redness, so frightfully bright. I touched my arm, the blood pooling into my hand, and gobs of it getting stuck under my fingernails, surrounding me. I felt like I was surrounded, like I was suffocating. My breath came in gasps, as Eve muttered "I'm so sorry..." Over and over again, "I'm so sorry..."

Pain swept through me, as I got over the shock of my own mother shooting me. Richie was laughing, his two hired hands rolling on the floor like hyenas, gripping their pot-bellies. Tears swelled into my mother's eyes, and it felt strange to watch the one tear fall down her face.

I gripped my shoulder and just collapsed onto the ground, writhing in pain, gasping, and crying. Richie kicked my shoulder, sending a new shock-wave of pain to attack me. I screamed, and started to pass out, hearing the voices of policemen outside, yelling about hostages, and asking if everyone was okay.



When I woke up, I was in a white, padded room. Everywhere I looked there was padding, even the door had padding. I couldn't move, my arms were restricted, and I had a sweater around me. No...wait... This wasn't a sweater, it was a jacket, wound tightly around me. I got up, using all my leg strength, and banged against the door. Someone came, looked at me, and said, "Good, your up." Then they left.

I ran around the room, angry, trying to get it out. I had just been shot! Why was I HERE?!?! The door opened, and a doctor stepped in, with stethoscope, and scrubs on.

"So, you shot your own mother, and think you were shot, yes?" The doctor asked, except it really wasn't a question as much as a statement. He shook his head, at my confusion, and pulled off the left shoulder side of the jacket to reveal no wound. I stared in disbelief at it, no no, this couldn't be real!

I tried to back away from him, but I ran into a padded wall. I scrambled desperately towards the open door, but he caught me, pulling me back. He shook a finger at me, as if to say "Tisk Tisk, we don't do that here." He shoved me, stepped out, and closed the door.

The room seemed to be collapsing around me, trapping me in, encasing me in a padded prison. I felt suffocated, and tried to move, to get away from this casing, but I struggled and tried, to no avail. I felt faint, I fell...I fell and fell, and fell, until my head hit the padding, and my eyes closed, never to open again...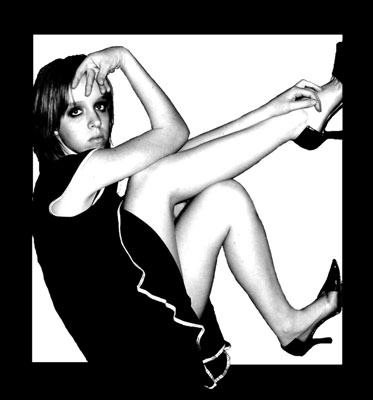 © Jessica P., Bethel Park, PA