The Vampire's Curse: Part 5
December 30, 2009
"Ash?!" Jamie shook her, trying to get her to wake up. He was kneeling on the floor beside the couch in which she fell asleep on.

"No!" she cried, still asleep. Her limbs flailed and she screamed in terror. Her eyes finally shot open and she screamed.

"Ashton?!" Jamie held her arms at her sides as he tried to calm and comfort her. She was breathing in gasps, her chest heaving.

"Ash, what's wrong?" Jamie asked in a panicked voice.
She shook her head back and forth and tears rolled down her face.

"He's coming for me!" she screamed.

"Who?"

"Him! He's coming for me!" she was sobbing uncontrollably, not even making an attempt to stop.

"No, Ash, it was just a dream. You're fine, I'm here." Jamie said, sitting her up and sitting down next to her. He pulled her close and hugged her tight. "I'm not gonna let anything happen to you, Ashton."

She couldn't say anything. His face and words still haunted her mind.

Jamie stroked her hair, shushing her when the sobs came again and again.

After finally calming down, she looked up to look in his eyes. He was still holding her and stroking her hair. She didn't say anything, and neither did he for a few moments. She didn't need him to say anything. She just needed him to be there and to hold her.

"Ash?" he asked in a serious tone, wiping a tear from her face.

"Yeah?" she asked in a quiet voice, still crying a little.

"What happened? You don't have to tell me, but. . . I was really worried about you. I thought you were dying or having a seizure. I was scared."

"I'm so sorry. I... I don't know what happened. I was dreaming and then he just...." she couldn't finish her sentence. It was too hard.

"Who's 'he', Ash?"

"His name is Emery... Emery Grayson. I... he told me. He was telling me about... my grandma. But he kept calling me by her name, like he thought I was her. And then he said that we should have been together; that we were meant to be together but that someone named Konstantin got in the way and that he would get revenge. I had no clue what he was talking about."

"But why were you screaming?" Jamie questioned.

"Because he... he had fangs and he had blood all over his face and... God, his face was just...." She was sobbing again.

"It was what?" Jamie asked. He wanted to know what upset her so badly. He pressed his face into her hair in a comforting way, letting her know he was there and she could trust him.

"His veins were popping out of his face and his eyes were red. Not just the pupils, but everywhere else, too and he was. . . horrifying." She took a shaky breath and Jamie hugged her even closer.

"It's okay, I'm here for you, baby."

BABY?!, Ashton thought. She suddenly forgot all about her dream and everything else in the world. Her heart thumped. He had never called her that, other than in a joking way. She was shocked. Did he have feelings for her, or was he just trying to comfort her? Ashton's mind raced like it had so many times before in the past day. She didn't know the answers to her question and not knowing scared her even a little more than Emery Grayson.

Ashton looked up to Jamie's face, and he wasn't meeting her eyes.

"Hey, Jamie?" she asked.

"Yeah?" He looked over in her direction, but still couldn't meet her eyes.

"Thank you." And then she snuggled up to him, closing her eyes, breathing in his scent and just taking in the fact that he might, possibly, with the slightest chance, love her.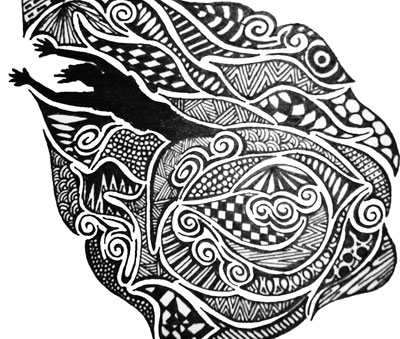 © Caroline B., Haworth, NJ