Salvation
February 2, 2010
We are all sitting, crouched in this lowly position, deliriously rebellious. All in this prison that we know as our only world. It is dark, cold, damp, and unforgiving. The floor is hard, concrete, so that when we fall there is no one there to catch us or pick us up. We lay there helpless after one of our many falls because of the slickness of the damp floor, wanting someone to save us, but to prideful to admit it publicly.

We walk around like zombies, wincing when the slightest bit of light pokes through the hardly visible window above us and hardly caring at all about the person beside us. They can't help us to our goals our high ambitions. We will be victorious over this prison… our world. We love this prison. After all, what else is there?

The chains that are linked to our wrists and ankles drag the possessions that we own along with us, heavy but precious to us. We have nothing else. Our possessions and chains become us, make us into the people that we are. Besides, everyone else carries them, why shouldn't we? But they seem to get bigger and bigger each day. The more we receive, the more they latch onto us.

Those who care about our earth- the prison- are covered in it. The more you love it the more the earth covers, making you look like you're fitting in, becoming more of the world. Everyone looks up to them, yet their happiness never seems fully complete.

There are the rare days when we wish for something more, but we don't know what. None of us are completely content. We always want more, always never completely happy with all that we have anyway. If there is more out there than this damp, cold, unforgiving prison has to offer, we want it.

A few of us- if they really are a part of us- are different. They don't wince when the light pokes through the tiny lighting above our heads. Instead they lift there hands and praise it, drowning in the bright white light that pours down on them like the light is its own person. They are clean, walking around in white clothes unlike the typical dress of dark clothes. Yet they never have the earth on them. They are spotless. They are weird.

They carry around a book, thick and uniform, but each seem to treasure above all else. They look different. Their features and characteristics are not like ours. They don't participate in the things that we always enjoy. When they do talk to us, they try to tell there is something more than this. We don't understand, this is all we have ever known. What crazy idea is this?

They say someone loves us. Someone died for us. Someone wants us to believe in them.

Few- but some- do turn to this wild belief of love- unconditional and beautiful- and change. They turn to white robes, and while for a long time they can't rid of all the earth at once, they do eventually become uniform with the rest of them. After that, though, we don't recognize them.

When they leave the prison, like one day it will be for all of us, they don't seem distraught or upset. Instead, they run out, joyfully. We can't see them after they leave the door, their departure is hidden by the same bright enveloping light that swallows them, like they are forever gone. Didn't they understand this? Don't they get it?

They never seem scared of us. But we are scared of them. Why the happiness? Why so content? They never have the chains of possessions on their backs, yet they act as if they are richer than all of us.

They scare us. Make us want to have this kind of contentment.

Make us wonder what will happen if we don't.

Whether we believe what they preach or not, we never forget the look of pure joy as they run off to be swallowed by the painful sight of light. Running away from the darkness- the only thing they've ever known. Yet it's like they are returning home from a long journey.

We don't understand it.

But we are afraid of what might happen if we don't.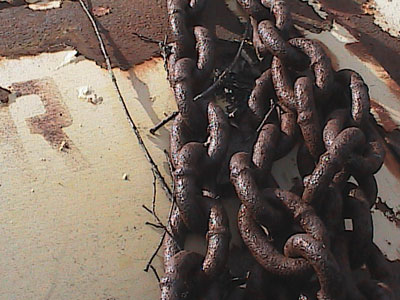 © Jack B., Central City, KY