Chilling Darkness
November 28, 2010
"Hello? Is anyone there?" I called into the dark corridors of the mine. I had bended over for just a second to take a closer look at the rocks on the wall when the rest of my tour group (and classmates) disappeared.

"Hello?" I called again, more panicked this time. No answer. I pressed against the wall, my heart beating fast. The poorly-lit section of the mine cast shadows all around me. Then, the lights flickered and went out.

Utter, total darkness. I fell to the floor, and sat against the wall with my knees to my chest. I opened my eyes wide, trying to find some source of light. Wait- what was that? A faint blue glow showed away from me. It got closer and closer and- MY GOD! Was that...?

The apparition proceeded closer and closer until it was right in front of me. It's faded, glazed-over eyes stared somewhere into my soul. Unable to make a sound, I just clenched tighter and tighter as it took step after step toward me. Finally, it began to reach for my face, and I let out a piercing scream that echoed on wall after wall. Footsteps came running, the spirit disappeared into a swirling mist, the lights flickered back on, and my shoulder was touched by a real human being. I just stared up at where the ghost has been.

"Maggie! Maggie!" My teacher shook my shoulder. "Maggie, what's wrong?" I couldn't answer. I couldn't. With the ghosts disappearance went my ability of speech. I would never make a sound again.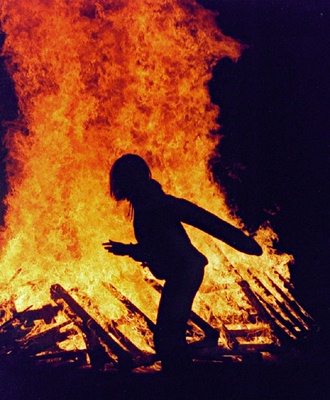 © Hali S., Robinson, IL