The Cliff
April 19, 2011
The waves clashed into the jagged rocks as if attempting to move them from their place. The water was deep, a liquid turquoise. She sat above on the cliff watching the sun cross the glittering ocean. A cool breeze broke the hot noon air as it passed through her tangled hair and across her tan cheeks.

She stood up and breathed in the salty air. He called her sweetly, the first bite of a plump peach, from somewhere in the thicket. She swayed, reluctant to leave her ocean, took a few slow steps towards him. The warm dirt dusted over her bare toes.

A different voice called her. She looked to where it came from and she saw a bird sitting on the edge of the cliff. It turned to the ocean and took off, gliding through the smooth air.

He called again. She walked to the edge of the cliff where the bird had last been. A strange feeling came over her, a revelation of sorts. His voice grew slightly louder as he called. He was coming to join her. She looked over her shoulder to where he would soon appear and whispered with a smile, "I love you." She jumped.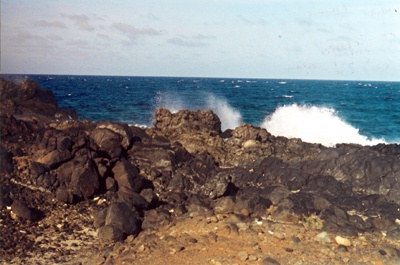 © Matt A., Smithfield, RI