The Death of a Monster
January 11, 2012
Don't misinterpret what I have to say as sympathy. I am a monster, through and through. Some might say the clenched feeling I get in my gut before I make a kill is guilt, but I know it to be excitement. The tears I cry are not for my victim but for myself, because each time I strike I lose just another part of myself that keeps me human.
I am a monster.
Last night, was different. When the girl I was about to kill started to stir in her bed, I felt nauseous. For once I didn't think I could go through with it. That I even wanted to go through with it. She rubbed her eyes and yawned before her eyes locked on me, standing at the foot of her bed.
"Marcus." She said, surprised, "I started to think you'd never come back."
I had been gone so long I forgot this was even her house. As soon as I realized it was her, her of all people I could have chosen to kill, regret of every murder I had ever committed was imminent. She was the conscience I never had.
I am a monster.
"Marcus, talk to me. What's going on?"
"Kate. I forgot you lived here."
She looked at her frail, scarred hands, "You're killing again, aren't you? Mark, there's another way. You know there is."
I left, because she makes me not want to be a monster, but I don't know if I can stop being what I was born to be.
Will I always be a monster?
That was the first night in two years that when I went out to kill, I came home empty handed. I write this note now because if I ever revert to killing, I need to be able to remind myself what I felt last night. I need to be able to stop again. That way, in a few months when I am absolutely positive I have no urge to kill, I can return to her. Then, and only then, I will return to Kate, my only love, and my best friend. Only 2 months and 29 days left.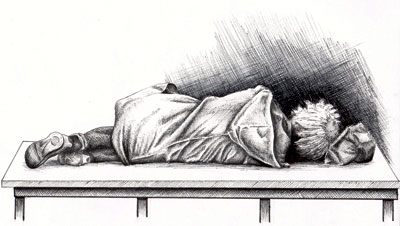 © Devin N., Sherrills Ford, NC