More From the Crypt of Carlisle Craven
June 15, 2012
The girl, Porcelain, very confused now. She was oblivious as she stepped into the house. Her fate unknown to her. Carlisle Craven smiled. How could he not? He'd been waiting patiently for a suitable victim to come along. His body frail from lack of nourishment. He would surely rip his own throat out if he didn't do it soon. His mind spiraling into delirium as his body shook with instability. At long last he had her in his clutches. Porcelain's fine figure stumbling about his very parlor. It was time to dine.

"Ms. Ilvenn, Why don't you sit down?" He suggested slyly as he walked into the kitchen. "Do you happen to be thirsty?" He giggled. He poured a glass of heavy wine, she should at least be numbed before her killing. He weakly walked back into the parlor and seated himself on the velvet couch next to her.

"To lift your spirits!" He joked grimly as he handed her the cup with finely ringed fingers. She smiled dreamily. Her eyes wide with unconscious wonder. He stared back for a moment, contemplating her life. His thirst growing intolerable. Patience running out. Should he spare her? Silly questions. She was a meal, that was all. He flexed his fingers carefully. In an instant, she was pinned down, the wine dripping everywhere and staining her ivory skin. Her eyes turned clear with horror.

"What are you doing?" She whispered into his gleaming face.

"I couldn't help myself." He laughed in reply. All too soon, his sharp tearing into her smooth neck. Her arteries streaming blood. Carlisle Craven was killing her. Her face undefinable. Her blood tasted so sweet on his tongue. Cooling his throat. Dripping down his face. Blood was everywhere. Just as he wanted. His muscles strengthening, his eyes brightening. His body restored. He finished his long awaited meal as her dead body fell to the floor.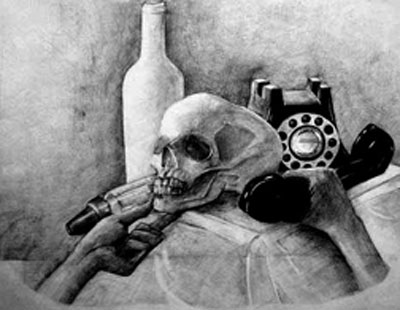 © Xiao H., Naperville, IL