The Darkness
February 15, 2014
My phone lights up from across the room, its brilliant white light hitting the ceiling in a luminous circle of white light. I slowly sit up, staring into the seeping darkness. I feel panic clutch my heart as the light fades, letting the darkness take over the ceiling.

I swing my blankets back, letting light cover my thin, pale legs. It was light from the lamp at the top of my bed. It spilled over the edge of my bed like a puddle of lemonade, which I slowly put my feet into. I stand, trying to keep inside of the edges of the light. I walk towards my desk, shrouded in grey light.

I reach the edge of the light, slowly reaching out into the darkness. My room is large, but most of it is pitch black, looking as thick as tar. But through the darkness, I can make out the shape of a small bed. Katie's bed.



Katie was a little girl my mom adopted when I was 8. She was 5 the night I left for my first sleepover. I was 11. Katie had raven hair and startling blue eyes that peeked out from underneath thick black eyelashes. Her hair was cut short, just below her chin, with a choppy quality that made her look absolutely adorable. She had an innocent quality to her, and her voice was as light and tinkling as bells.

"Katie, you'll be OK tonight, right?" I ask, pushing my pajamas into a pink duffel bag. Katie was afraid of the dark, something that was a legit fear considering our house and room was very poorly lit.

"I guess." She says, sitting on her bed cross- legged. She was coloring in a Disney Princess coloring book with Crayola crayons, making Sleeping Beauty purple and orange. She was 5, after all.

"I promise I'll be back in the morning." I say, sitting next to her. "Katie?" The princess's dress is now bright pink, with reds and oranges intertwined through it. Nothing is colored inside the lines.

"OK, Amy. I love you." She says, pulling me into a tight hug for such a small, young girl. I wrap my arms around her, squeezing her back with all my might. She hugs me harder, until the air escapes from my lungs.

I finish packing my things, lugging my heavy pink duffel bag out the door. My mom and Katie wave to me as I walk down the block, to Hope's house.

The sleepover was the most fun I had had up until that point. I almost forgot about Katie's fear of the dark and how black my room was.

The next morning I walked home, lugging my duffel bag back. I threw it onto the couch and pulled off a note from the T.V. It was a note from my mom saying 'I had to go to work. Let Katie sleep. See you around 6.' I stuck the note on the table and turned the T.V. on.

At around noon, I finally decide I'm hungry. I open a can of ravioli, pouring it into two bowls and throwing them into the microwave. Then, I walk to the room to get Katie up.

The door creaks open, casting light onto her small bed. She's curled into the fetal position, hands over her face. Light filters in from the window, but the corners of the room are still dark.

"Katie?" I ask, shaking her. She doesn't even move, like she's frozen. Her skin is freezing cold. "Katie?" I turn her over. The sight makes me retch.

Katie's skin, already pale, is pallid and free of blood. There are long scratches down her hands and neck, down onto her chest. They are crusted with blood, and her eyes are open, an image of fear imprinted into them. Pure terror seizes me as I run from the room, dry heaving.

I sit down in front of the T.V., rocking. My body moves back and forth as the microwave timer goes off. I ignore the incessant high pitched beeps as I rock back and forth, Katie's dead face imprinted in my mind. I can hear voices coming from the T.V., but all I see is Katie's dead face.

Mom finally comes home, and finds me sitting too close to the T.V., watching a show I wasn't even registering. The microwave was still going off. She turned off the T.V., got the ravioli out of the microwave. She asked me to tell her everything. The story came out in gasping, seizing sobs.


That was 5 years ago. Katie's bed is still in my room, even though they buried her. I stumble, stepping into the pitch darkness. The smell of rot tantalizes my nose, and I try to sneeze. My heart seizes with fear, but I take another step towards my desk.

"Amy, are you ready?" rotting lips caress my ear, and I try not to shiver. "Are you going to follow Katie?" the raspy voice of the darkness asks.

"Never." I say, stepping towards my desk again. A cold claw traces my cheekbone, wet with Katie's blood. I shiver, unable to stop myself. Thinking of Katie makes my eyes brim with tears, which fall down my face.

"Don't cry, Amy." The raspy voice whispers, and the claw wipes away the tear that tracked down my face. "Don't cry."

I step to my desk, finally grabbing my phone. I hit the power button, letting the white light shine onto my face. The smell of rot dissipates, and I can no longer feel the cold, wet claw on my face.

"Amy!" the raspy voice yells, and for a moment, I can hear Katie's voice mixed with it, the voice of evil and innocence intertwined. It almost sounds human, but the evil voice overtakes it. "Amy!" the darkness sounds weak.

I have an idea. I turn up the brightness on my phone, making it as bright as possible. The darkness seems less and less, like it's dying. I shine my phone's light around the room, and once it leaves, the room looks less dark. It just looks simply grey.

"Amy!" the darkness screams, and then, again, I can hear Katie's voice, completely separate.

"Amy!" her voice, yells, but I know it's an illusion. I move the phone around the room again, until all that I can see is grey light, other than the yellow light from the lamp next to my bed. "Amy!" Katie's voice fades, and the light of my phone goes out. As hard as I try, I can't get the light to turn back on.

Quietly, from my phone's speaker, I hear the raspy voice of the darkness. "You haven't won, Amy." It says, and I walk over to my window, which overlooks the pool. If I throw far enough, my phone will sink in the cold chlorine water.

"Wanna bet?" I ask, pocketing the phone. I pull the window open, leaning outside. The night sky is full of twinkling stars, bright against the dark blue. I pull the phone from my pocket, staring at the pitch black screen. "This is for Katie." I say, throwing the phone as far as I can.

The phone lands in the deep end of the pool, right under the diving board. I hear a splash, and the water turns dark for a moment. Then, it turns normal again. I wonder who will find my phone as I close my window and walk back to my bed. I turn off the lamp, staring into my grey room. It was no longer pitch black, but a dark grey. My eyes close, heavy with sleep.

"I love you, Katie." I whisper, and no one answers. The darkness is gone.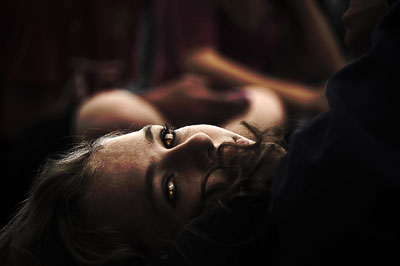 © Calvin C., Salt Lake City, UT