The Girl in the Rain
March 1, 2014
The thunder rumbled violently in the distance as the rain outside of the house grew stronger. I could hear the sound of the rain rushing through the gutters and the rhythmic tapping of it on the roof. It was perfect reading weather. I curled my toes up under my plaid pajama pants and pushed my coffee cup closer to my side for its warmth. The tall, muscular, blonde haired man I got to call mine was lying on our plush brown couch watching his favorite TV show on his tablet. From the other room our lab, Cooper, started barking and spazzing out.
"Cooper, hush!" William demanded. Cooper was running back and forth from the front door, down the hallway into the guest bedroom. I closed my book and got up to get him. William blew a kiss my way and I rolled my eyes playfully at his laziness. In the white and light green guest bedroom Cooper was standing with his ears as stiff as a board, tail tucked between his rear legs looking out of the floor to ceiling window. Across the street from our house was a green field with trees that got thicker the farther away from the house they got. On that field were three deer the color of cardboard with little white streaks on the underside of their tails.
"It's just deer silly." I muttered at Cooper. I pushed his golden head to the side as I turned to go when he let out a deep, wet growl. A young girl, no older than nine, was walking down the field from left to right. Her wispy white hair blew around her shoulders and her pale, uncovered arms in the wind. Where was her jacket? All she was wearing was a short sleeved t-shirt and long jeans. I couldn't see her feet very clearly, but I was almost positive she was barefoot. I knew all of the neighborhood children and she was not one of them which just made me question where in the hell she had come from.
"William!" I called. He came up behind me and put his arm around my side comfortingly. Will asked what was wrong.
"Do you see that girl? She is walking out there." I pointed. William peered out of the window, but shook his head.
"What are you talking about? No one is out there." He questioned like I was a child. I pushed the blinds apart and pointed at her. She was now a few feet away from the deer. Her whole body turned slowly towards our neighboring house. Suddenly, large oak trees only a few hundred feet away from us came out of the ground twisting and bending as their roots struggled to get free. The trees came crashing down around her smashing the ground and disturbing the grass with upturned roots. I let out a cry from the roar of the crashing. William looked upon my helpless form as I sank to the floor.
"Ann!" He cried. The girl walked around the trees towards the street. Two bright headlights shone around the bend in the road. The car was going to hit her. I had to stop her. I pushed myself up, brushed past William, and threw the front door open. She was not looking and the car did not appear to see her either. Before I could register what was happening, I heard William screaming my name, I felt cold flesh against my body, and I was face to face with wet grass. When I looked down at my arms I saw her leaning into my body with tears on her porcelain cheeks. Her eyes were tinted bright blue.
"Annabeth!" William yelled. I ignored him.
"You shouldn't have done that. I wouldn't have died anyway." She whispered to me. Her body faded away; my arms started to get feel less weight on them. Then I suddenly knew her. Her memories filled my head as if they were my own and I could see her past through her eyes.
"Rylee, you don't have to leave." I breathed, but she was gone. I felt numb. In the distance William and the driver of the car were arguing with each other. All that I could do was stare at the space she had filled.
"Come back. I can help you…" I whispered to the air.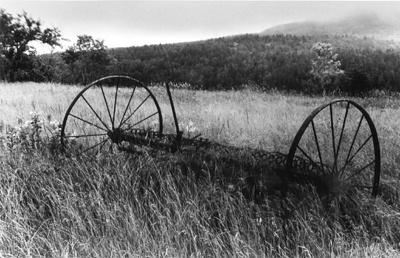 © Steve S., Marblehead, MA