Soylent Green
April 27, 2014
There came a loud knock at my door, and I rushed to see who it was. I hadn't had company in years, and I was desperate for even light meaningless conversation. I opened the door, and there, sitting precariously on my porch, was a basket containing a small child. She had big curious eyes, and a few tufts of thin black hair. I brought in the basket, and she giggled. I looked into her large eyes, and staring back were the greenest eyes I had ever seen; she couldn't have been more than a few months old, but her eyes pierced straight into me. I called her green, and she seemed to approve of the name. I fed her, clothed her, but I didn't bother with her education. I kept Green locked in my basement and made sure she didn't know about the outside world. Finally, on her tenth birthday, I decided she was big enough.

"Green, dear, could you come up a second?" I called sweetly. She walked up the big stairs for the first time, and I watched as she saw the windows. She ran over to them and watched with a great curiosity. I turned on the oven, and I was reminded of the tale of two small kids who were nearly eaten by a witch. I won't fail like she did, though. I heard a slam and looked outside in alarm. Green was outside playing in my garden. I ran outside and pulled her back in. She was still laughing as I stared at her dirty body.

"You're covered in soil, Green," I said in dismay. She laughed hysterically and walked towards me. Green revealed a knife and I back away nervously. She broke into a run, and I attempted to run backwards. I stumbled and fell, landing on something painfully hot. I tried to get up, but Green pushed me back in. She slammed the oven door closed, and I pounded on it. She laughed as she watched my flesh bubble away to nothing. An hour later, Green ate her dinner hungrily.

"This is delicious!" She said between bites. "The flavor is to die for.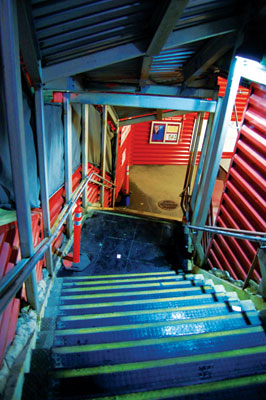 © Karen C., Holbrook, MA