Pinocchio
MAG
September 23, 2014
He has two sons, carved out of a mother still as stone, soon enough that her veins still carried blood to her lips. The neighbors tell tales of the deadbirthed ones, earnestly convincing one another of how many horns the two devil children bear. The knife that summoned the two is kept in a drawer, along with a spool of thread and a needle.
They aren't like other children. In the mother's body there was one. The blade severed the single child into two halves, one slightly bigger than the other. They survive, two miracles, each with one arm, one eye, and half a heart. They live without a pair of lips, for those were butchered in their salvation.
He teaches them how to sew, how to carve, how to fashion elm into armchairs. They do not speak, only watch. Days tick by, kept time by cuckoo clocks made of oak. Life is routine until the eighth harvest moon.
The morning after, he looks at the smaller boy's hand, which displays only four fingers. The next day, the smaller child has three. The larger one whittles more deftly.
The smaller child's eye disappears the next week. Then his leg. Then his heart. He is reduced to a block of timber, a wooden top.
He can't do anything to stop the transfer, for he has known the time would come. The larger one has two pupils now, one on top of the other, a button. Ten fingers adorn his hand.
The larger child walks toward him. He sighs with exhaustion, forgets to sit up. The child opens the drawer, pulls out the knife and the needle and thread. The child cuts his lips off, clean, and sews them onto his own face.
His vision is fading. The child turns the doorknob, and before he becomes still as stone, the child whispers, "Look, Daddy. I'm a real boy now."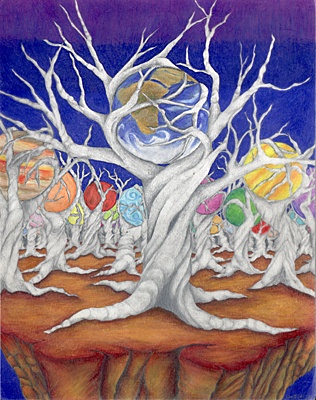 © Sara P., Lake Mary, FL