Static
March 16, 2009
Sitting up suddenly, confused as to why I was abruptly pulled from my dream. I shake my head and moan holding my face in my hands. The sound came again. It was my phone, of course, that annoying phone, it light up the room, screaming at me until I gathered up the strength to pick it up. "Hello?" I grumbled into the phone.
It was my friend. He screamed my name into the phone as if he expected me not to answer and hurriedly spat out sentences so jumbled together I couldn't make out a word of what he was saying. Shaking my head once more while pulling myself up I waited for him to take a breath. Seeing my chance I jumped in, "Chuck, chill out!" I demanded, finding my voice surprisingly louder than I expected "What did you say?" There was a pause as I heard him draw his breath. "Turn on your TV." He said slowly and hung up the phone.

The dial tone of the phone burned into my ear as I searched around my still dark living room for my remote. Squinting as the TV woke up awakening my house with its bright light. Even though I couldn't see through my still squinting eyes I could hear the reporters, something had gone wrong. I didn't want to see, I didn't want to know what had already happened. I knew what was going to happen and that was enough. As the darkness came back and engulfed my room I pulled on my jacket and ran outside.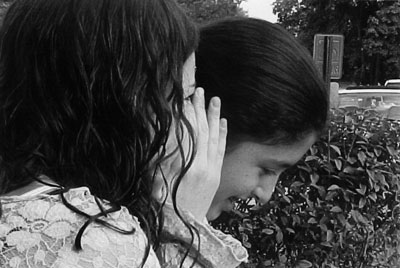 © Jill H., Pompton Plains, NJ