Haunted House
January 23, 2018
I walked through the old cemetery. It is getting late. Lydda agreed to meet me at the old ghost town at 9:45. She's fifteen minutes late. We are planning to go into the house that no one had dared to go near.
She finally arrives but there is someone else with her. I go to meet her...and the uninvited surprise guest. Of all people...she brought Asher. IS SHE OUT OF HER MIND! Asher and I HATE each other.

"Well let's go to the house before we run out of time." I comment irritably.
We get closer and sense the strange and eerie darkness that surrounds the rickety house.

As we step in cautiously, the floor creaks, a light blinds us, and Lydda is gone. I scream. My heart feels like it is going to pound out of my chest. I shake, knees wobbly. I could tell that Asher felt the same way. I hear a disturbing sound. 
"Did you hear that?" I ask nervously.
"Yes." He anxiously replies.

We see two shadows at the top of the spider-web filled staircase.  Terrified, we take one step and we hear what sounds like a female voice.

"No-no-no-no-no-NO!"
Her voice disappears.
I grab Asher's shoulder. We try to find a way out, but the pitch black seems to swallow us up. I see a bar of moonlight, dimly lighting the kitchen. We snag anything we can get. Knives fly. Instinctively, Asher drops to the floor, dragging my listless body down with him.
  I was shaking so hard, that I can barely stand up. We get up, hearts pounding, sweat drips from our face one drop at a time.
All the doors fly open and two dark figures walk through on opposite sides.
They were on both sides of us.
Don't think.
Don't see.
Don't speak.
Don't breathe.
The two figures are behind us in a split second. They capture Asher. He was being dragged away. His fighting and flailing doesn't even loosen their solid grip. His screams reiterate throughout the house, before he fades from my view.

I search the house for Asher. Minding where I step, I found the room that he was in. Horrendous yelps of pain screech through the hollow hallways. I peek in the room without being noticed I see Asher sitting in chains. One of the figures is holding what looks like a baseball bat. He stood in a baseball stance, he swings. Unable to respond, Asher was struck in the head, then again, he was struck. He was knocked out with the first swing, the second was for his death.
I ran swiftly and quietly down the steps, every step my mind replays Asher's death. I get to the bottom of the of the staircase, I just run. Hoping that I could find a door that I can exit out of.
As I ran, little wisps stopped me in my tracks and surrounded me.
"Let me take this one." Said a deep voice behind me.
I turned, and the wisps opened up so that the deep voice could step in. He stood in front of me. Face covered. He pulled a gun and points it at me.
There is no escaping now.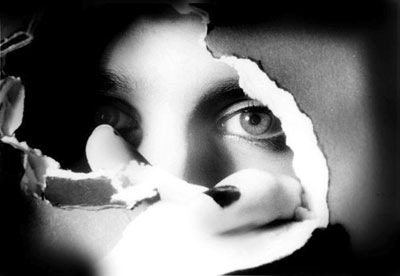 © Tabatha B., Peoria, IL