My Hair is Prettier than Yours
January 27, 2012
"Your so ugly nobody can even look at you. It hurts their eyes!" She said to me. Then she threw her head back and laughed. Everyone laughed with her. I walked away. People pointed at me and laughed. I kept my head down. A paper airplane hit me in the head. I pretended I hadn't noticed. The kids on the bus insulted me just with their eyes. I read my book.

If you'll believe me, I'm actually very pretty. I have a pretty body, nice features, big eyes. But nobody can notice that. Because of my hair. It's not sleek and straight like everyone else's. It's untamable. It curls and frizzes and can't be pulled into a ponytail or pushed behind my ear. It's different. And they hate that.

I pulled my hair out of my face with a headband. My goal was to make eye contact with every person I passed.

Only four people would look me in the eye, and only one of them held it for more than a second. He locked eyes with me for five seconds. It may not sound long, but it felt like forever, especially since everyone else had averted their eyes.

They fidgeted with zippers and ponytails. They suddenly became very interested in their fingernails. Anything not to have to look me in the eye. Maybe she was right. It hurts them to look at me. But not because I'm ugly.

And when I was next to my locker and she came up and started making fun of my hair, I looked her in the eye. She faltered. All the kids around her averted their eyes. I heard their thoughts: Please don't look at me. Please don't.

"Worry about your own hair and leave mine alone," I said to her. She blinked rapidly. Then I slammed my locker shut and stalked off towards science class. And just like a movie, they all stood there, not sure what had just happened.

Remember that old saying, "The eyes are the window to the soul"? They are. The one boy who held my gaze for five seconds learned more about me than any of the other students I was able to make eye contact with. And I understood him. Maybe the reason nobody else would look at me was because they were afraid I'd understand them. That they only want to fit in. That they don't want to become the next object of humiliation. That being popular is more important than being human.

By the way, McKenna, my hair is prettier than yours.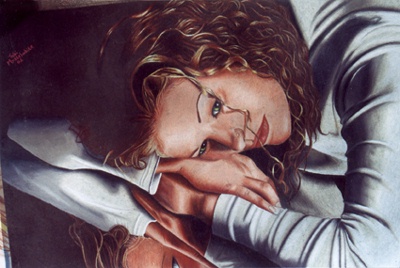 © Tabitha M., Kannapolis, NC