Sympathy for the Devil
MAG
May 25, 2012
It might be a cliché: I entered middle school doe-eyed and doughy, ready to face the exciting prospects of almost high school. Alas, I was cut down by a bully during the horror known as gym class. Little things, like pushes and shoves into locker doors, slowly broke down my resolve. Every day, sixth period ruined my life.

Here, though, is where I learned the rules: toughen up, don't tattle, know your place in the pecking order. I ­wasn't one of the "cool" kids, one of the athletes, or even one of the respected nerds.

The bullying didn't happen because I was being singled out, and that's the most damaging part about it. I was interchangeable with all the other invisible kids. Thrown into this environment where parents and teachers no longer rule, kids build their own hierarchy, and if your role is to get pushed around and ignored, you might as well not exist at all.

In this purgatory, I wandered from hall to hall, class to class, arranging my life around sixth period—gym class—and the dominating figure of my bully. Looking back now, he seems a lot smaller. Many years have passed, and I have toughened up. I'm bothered by other problems now, but they are more existential and pretentious these days. With the help of the people who love me, I made it through middle school. Yet when I think back, I still feel the dents in my armor. What that bully did lasted.

Then I discovered through Facebook that the all-powerful bully of my past recently took his own life. How am I supposed to feel about that? It's not like I knew him well; after sixth grade, it was almost as if nothing had ever happened between us. Even though he affected my life in so many ways, I wonder if I had any impact on his. It's strange to think that I, who feared him every day, was probably a very minuscule part of his life. To him I truly was invisible.

Yet it seems like I was the lucky one after all. The small ways he abused me in middle school were tiny blips in the larger context of his life, his struggles. I was an outlet, and even though he injured me, it doesn't make him a malicious force. Underneath it all, he was a poor, confused kid like me. For a brief few months, our lives brushed against each other in that locker room and then drifted apart just as easily.

Bullying isn't some great mystery. Middle school can be one of the worst, most heartbreaking times. Naturally, people are going to have problems. Those problems create both the bullies and the bullied. We're all products of our environment, and we all need kindness and hope during that challenging period. I was lucky; I had the support of my parents and friends.

But who did my bully have?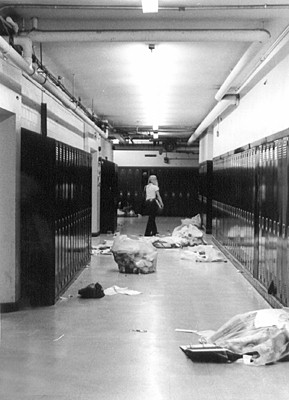 © Halsey S., Marblehead, MA