Speak Up
February 14, 2014
I've been bullied. I've been bullied very badly. I've been called names, and I've been mentally molested by everyone. My relatives, my friends, my 'enemies' and everyone I know has humiliated me. There was even a time when I was scared of leaving my room. I was afraid. Even thinking about all that taunting scared me. I've self harmed. There wasn't a second when I did not wish to die. I hated myself.
But I overcame it all. I talked to my parents. I started talking to new people. I read articles. And I found something which I'm acceptably good at. Writing. I started writing about my feelings. I posted my writings on Teen Ink, and some people appreciated my work. I did not change myself; I just became a self-confident person.
I'm pretty sure some of you reading this may have been a victim of bullying. Bullying is the probably the worst thing that can ever happen to anyone. Bullies judge you; they mock you, and emotionally torture you. They make you hate yourself. You start feeling suffocated in your own body. You want to die, and you want to end it all. But trust me; dying is not the way out. Just think about your parents. Think about the amount of pain they'll have to feel when they find out that the child on whom they spent years, raising her and wanting the best for her, is dead. Think about your siblings. How is your little sibling going to feel when he has no one to play with? Or how is your older sibling going to feel when he has no one to fight with over the TV remote? Think about your best friend. Whom will she tell everything? Who'll be there when she needs a shoulder to cry on? You are very important. You cannot be replaced and no one can take your place, ever. Just don't lose that little ray of hope inside your heart. Nothing lasts forever.
Bullies are cowards. Most bullies I know of, including the ones who bullied me, have been victims of bullying. But is it right to make others go through the same pain just because you went through it? No, it's not. If you've been bullied, or you are being bullied, don't stay quiet and don't be afraid. Talk about it to your parents, to your teacher, or whoever you're comfortable talking to, but don't stay locked in that stupid dark room. Speak up. Love yourself the way you are. Raise your voice, and fight back. No one has the right to judge you without even knowing you.
I'm fat, and I'm nothing like the pretty tumblr girls. I can't sing, or dance and I suck at sports. I don't know how to use make-up, and I'm the most imperfect 16-year old on this planet. I don't have very high opinions about myself. But I accept myself the way I am. I don't and I can't let anyone comment on the way I look, or the kind of person I am. I'm intricate, silly, not-so-smart, crazy, and bitchy. But that's the way I am. And I won't change for anything, or anyone.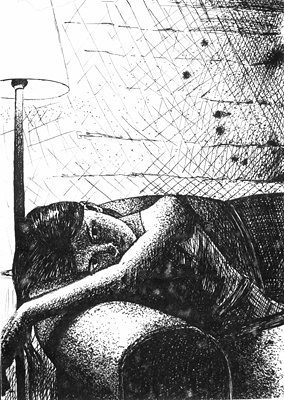 © Elisabeth R., Elmont, NY