Service For The Better
January 20, 2010
A wise man once mused "Those whom help the unfortunate are really helping themselves." Throughout my community service participation I have always thought about this phenomenal confusing quote. The analysis I endured was when are helping others with there economic problems and personal dissatisfaction you are enhancing skills such as becoming a leader of your community , for you learn how to put others before yourself. Without doubt, joining Interact and volunteering throughout Arizona I gave been astonished to realize of the new and improved person I have become , for when I volunteered at lost canyon , in Williams Arizona , doing Work Crew , I was not sure what was approaching my path.

Indeed, walking into the deliberation room where I was going to be assigned a task for the weekend; steady sweat was coming down the palms of my shaking hands. I retook control of myself and took a seat in the mid back of the room, the coordinator of the event was calling off the names of the other teens at camp volunteering and instructing them what to do, with much content for the moment I notices that my name has not been called yet, praying that maybe there is a possibility that they forgot about me and I could just wonder around camp the entire weekend. Without doubt, planning in my head what I could possibly do at camp without having to work, I heard a loud deep roaring voice behind repeating "Is Oscar Here?" I stayed quite for a second thinking there might be an other Oscar he is talking about , no luck was found and I was just going to be stuck working at some mind-numbing Christian camp, as a waiter.

Clearly, my initial reaction of my parents making me go was negative and my refusal to going was immense. My heart was pounding faster than ever with frustration, but the day went one, and I went to go place my belongings in my cabin. As the day went on we only had dinner to serve, for the campers had arrived later in the evening. Serving dinner was crucial for I have never been a waiter and I had the biggest responsibility serving 5 tables with 8 people at each table, were the other teen waiters only had 3-4 tables. With a negative attitude I worked slow and sloppy, earn zero dollars in tip. Thinking since everyone is one eating I may leave, but I was wrong I had to clean the 5 tables up and set up for breakfast. I thought to myself this day is never going to end.

The next morning I woke up at 5:45 am to set up breakfast for the campers with a different attitude for the day I thought to myself saying "I have to be here anyways might as well make the best of it!" so I did and am extremely glad I did because I realized that this is not for me, but for these campers. These campers were here to get closer to the lord and not have to worry about anything else but the lord. Thankfully, I found that out in a flash, for I didn't want to be held accountable for any adolescents not being able to get closer to the guy upstairs for my unethical distraction. All weekend long I was cheerful and on a mission to be positive and allow everyone to have the time of there lives here at Lost Canyon.

Luckily, I stayed true to my mission and learned a valuable lesson while in Williams, Arizona. Realizing that community service is not for me but the campers whom wanted to endure the power of the holy sprit, I became a better person. Now I am volunteering at different home bases and I value myself and my parents for making the right decision in believing community service is critical in the development of a young teen.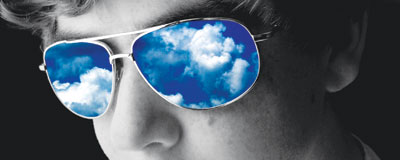 © Joseph B., Mesquite, TX