Happy Maggie
MAG
March 13, 2013
During my childhood I experienced greater hardships than most people go through in a lifetime. In my short 17 years of life, I have been through five divorces of my parents. Having a new stepmother or stepfather every few years was rough, but the constant moving was worse. My father's cancer diagnosis tore me apart, and his two heart attacks and battle with diabetes put a huge strain on the family. By age 13, I was depressed and emotionally scarred. I felt like I had no one to turn to and that nothing would ever get better. Then I met Maggie, and my perspective on life changed.

For many summers, I volunteered at a horseback riding camp for people with special needs. We taught children and adults specialized skills based on their disabilities. For example, we would teach a child with autism communication skills, or a child with cerebral palsy strength-building exercises. Each volunteer was assigned a specific child during the eight-week session in order to build a trusting relationship with them. Seeing the improvement in the kids day after day and the smiles on their faces whenever they saw me was heartwarming.

A few weeks into one summer session, I was asked to cover for another volunteer who was out sick. That was the day my outlook on life changed forever. I was ­assigned to Maggie, a girl with a severe brain injury. At first I didn't know what to expect. She had almost no verbal ability and very limited physical mobility, but she was in no way shy.

As I began to work with her, I looked through her file to get more information. It was heartbreaking. She had been physically abused as a newborn and throughout her infancy. Her birth parents abused her so badly that they caused a serious brain injury by the age of two. Her skull had been broken, and the damage was irreversible. She had gone from foster home to foster home and never had a sense of stability. But the amazing thing about Maggie was her unsinkable attitude.

When I met Maggie, she was 12, and the only thing she would say was, "I'm happy!" That was the extent of her vocabulary. Everyone at the camp referred to her as Happy Maggie. Everyone loved her. She was never in a bad mood and was always up for trying anything. She was the happiest girl I have ever met. The answer to any question I asked her was "I'm happy!" What did you eat for breakfast? How was your day? What's your favorite color? How old are you? "I'm happy!" she replied each time. She loved life. She loved everyone and everything she came in contact with. I remember wondering if it was all an act – if on the inside she was broken, or if her brain was so far gone that the only emotion she could express or feel was happiness. I could only hope. In a twisted way, her brain injuries helped her get through the trauma of her childhood.

My life growing up was a huge struggle, but Maggie taught me to not let anything get in the way of happiness. Nothing bad in life should be enough to change who I am, or who I could be. She gave me strength. If I learned anything from Maggie, it would be, no matter what, be happy.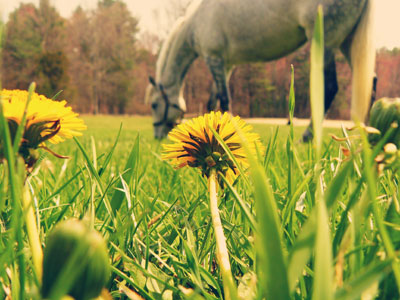 © Madalyn W., Holliston, MA