My E-Soccer Experience
December 29, 2008
Jimmy Carter once said, "Throughout my life, I've seen the difference that volunteering efforts can make in people's lives. I know the personal value of service as a local volunteer". Volunteering can really bring out the true character in a person. In the middle of September last year, I took part in a never-forgetting experience at a soccer camp for special needs children, called E-Soccer. By me participating in E-Soccer, I showed many character traits, including responsibility and compassion, every week on and off the soccer field.
For eight weeks, I woke up early on Saturday mornings and played soccer with special needs kids on the fields at local elementary school. I am not a morning person! I usually wake up around ten or eleven on the weekend! Yet, every Saturday, I dragged myself out of bed, threw on some dance shorts and a tank top (even though it's freezing at 8:30am!). By the time I got to the field, I forgot how tired I was! All the volunteers there were grinning from ear to ear, preparing themselves for more than 50 special needs kids under the age of 14, arriving at any moment. The volunteers there were so amazing! They all knew every child's name by the second week and went out of their way to make a personal connection with almost every single one! It was so cute to see a little 6-year-old's face light up when she found out that their coach loved the same TV show or color as her! The kids' love and energy kept me going throughout the day.
At E-Soccer, every "player" is paired up one-on-one with "buddy", a high school or adult volunteer. The players were then split into three groups divided by age: 3-6 year-olds, 7-10, and 12 and up. I choose to work with the littlest kids, because they are adorable, and just learning how to play soccer (perfect, since I haven't played soccer since fifth grade!). Most of the time, I worked with a little boy named Jake. Jake had a crazy amount of energy every week! I'd see him, and he would go run around and kick down all of the cones that were placed all over the field. Working with Jake definitely raised my patience level! We'd run around the field for the hour-and-a-half we were together (I was usually chasing him), or he would hide in the little tent that was set up. Even though he would kick my shins or jump on my back, I just took a deep breath and tried to direct his energy somewhere else. Many times, moms came up to me as well and told me "Good luck and try your best with him". It seemed as if I had all the kids' parents on my side! I put my heart into it every week and did as much as I could with Jake. We'd pretend the dirt was lava and jump back and forth, or run in between all the cones! I believe we only touched a soccer ball a few times, but I still had a great time with him. Jake was still so cute, even if he acted like a little monster at times! Every week, I looked forward to E-Soccer!
Most Fridays, I either had a friend sleep over, or I spent the night at a friend's house. One night, I was actually at my best friend's birthday party! Come Saturday, I would have to leave early for E-Soccer, but I didn't mind too much. If I didn't show up at E-Soccer, I'd ruin Jake's day! That wouldn't be fair to them or their parents, since the kids were excited and ready to play, and the parents are donating their time to us and enjoy watching their child grow on the soccer field! So, I sucked it up, woke up early to get ready, said a quick "goodbye and happy birthday" to my friend, and I was off. All the other girls kept demanding, "Why are you leaving? Come on! Just stay! You'll only miss one day! It'll be fine!". But I knew my commitment to E-Soccer, to the kids, to their parents, and to myself was more important! Luckily, my friend understood and was okay with me leaving her party a couple hours early.
On the last day of E-Soccer, Jake was so great! It was the first week in a while that his mom, or another mom, didn't have to come up to him and tell him to behave or bribe him with treats. At the end of practice, Jake and his mom came up to me and gave me a box of truffles and thanked me for all my hard work. A big smile came upon my face and stayed there for the rest of day. It wasn't the truffles that made my day, but the fact that his mom was so happy that I was there working with her son; even if we weren't always playing soccer. I didn't realize how big of an impact I was making not only on these kids, but on their parents as well. They got to see their children have fun with kids just like them, and with older kids who voluntarily spent their time there every Saturday. Within the eight weeks of E-Soccer, Jake and I both learned something new. Jake learned to play a little bit of soccer, and I learned the importance of volunteering.
Character helps us become better people inside and out. My E-Soccer experience was like no other, and it greatly impacted my life. From it, I have more patience than I did at the beginning of September, and I am more compassionate towards others. I become fond of Jake, and they became more like little siblings than "kids I was working with at a soccer camp". Honestly, I was really sad when E-Soccer had to end! I'd have nothing to look forward to on Saturdays now! Also, I am more responsible now, for I had made a commitment to E-Soccer and I stuck with it, even if it was hard at times. The kids there, including Jake, showed all of us volunteers and buddies respect each week. For some kids, it always seemed to be there, but it was hidden at times. In Jake's case, it was hidden until almost the very end! In addition, the players also showed self-discipline, because they didn't act up or throw tantrums all the time. Jake acquired self-discipline, and didn't hit me by the last camp. Instead, he hugged me! Volunteering is just one of the many ways that shapes who we are as people. If we all volunteer in one way or another, we would all be showing the six character traits our school, city, and community has taken on. I've just finished my third 8-week session of E-Soccer. One year later, I'm still involved and I love participating in it. I can't wait until the Spring Session begins; I love connecting to a new player, I love teaching them soccer and social skills, I love watching them grow, and I love seeing their parents become so excited that their child has a place to belong to. As Aesop said, "No act of kindness, no matter how small, is ever wasted". Our acts of kindness prove who we are on the inside and out, just as Aesop and Jimmy Carter believe.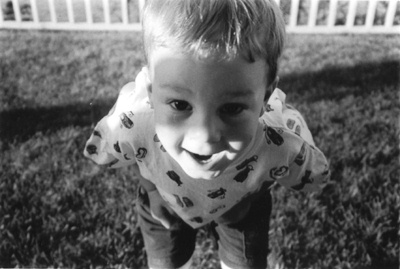 © Jessica M., Marblehead, MA