Salkehatchie
MAG
September 5, 2015
Salkehatchie.

Strange word, isn't it? I looked it up in an online dictionary, and it asked me if I meant "balkhash." However, Salkehatchie is not a made-up word. In addition to being the name of a river in South Carolina, Salkehatchie is a summer service program in which I participated last year. This program changed me. A lot.

Salkehatchie is a week-long volunteer program for teens to help fix people's houses who can't afford to do it themselves. We do everything from painting walls to plumbing to roofing. Saturday is the first day of camp when you arrive wherever you're staying (usually a high school or church) and get settled in. Later, you tour the houses your camp will be working on.

On Sunday you are assigned to your site groups and get to know each other. Our group went to church together and then went bowling as an icebreaker activity. Then on Monday, the hard work began.

Our assigned houses needed roofing, painting (lots of painting), new steps in the front and back, new locks, repairs to holes in the walls, a new stove, sink and kitchen cabinets, and a general cleaning. In South Carolina, July weather is hot! Very few of the homes had air conditioning, but we pushed through our work with lots of water, Gatorade, and popsicles.

Our site owner was so excited because he got to choose the paint color, and we painted everything (and I mean everything) that color. He also kept extra paint so he could touch up his house. Most of us are lucky enough that we don't give this much thought. I mean, it's just a new coat of paint – what's the big deal? But once we finished painting the walls, our site owner stood there for an hour just staring at it. We asked if anything was wrong, and he said with tears in his eyes, "This house has never looked so good."

That one sentence made the entire week of sweat and manual labor 100 percent worth it. To see tears in someone's eyes when they see the change that a couple of teens with paintbrushes and hammers can make is truly special. These homeowners are all so grateful for the work we do. Some (if they are physically able) help us fix things. One of our homeowners was on the roof the entire time with the rest of our site group.

Once you participate in this program, you are never the same. I went home with a new understanding of how blessed I am. With new eyes I looked at our dishwasher, clothes washer, dryer, hot and cold water, working air conditioning, all the space, and doors that actually lock. Before, I never thought twice about any of those things.
The symbol for Salkehatchie is two hands – one holding a hammer and one holding a cross. The last day, each group makes a Salkehatchie for the house. We made ours out of scrap wood and put "Salkehatchie 2015" on it in big letters. Then we signed our names. Our homeowner wanted the cross right in front of the house where everyone could see it.

Our group members then chose a symbol to represent their week at camp – an object that represented their personal experience and when they felt God's presence. My symbol was a little block of wood that we used to steady a shaky ladder. Without the block somebody could have fallen and been injured. For me, it represented how something small and insignificant (like a bunch of teens with hammers and determination) can make a big difference. However, as I thought about it more, I realized God does that with us. He can send us something seemingly small and insignificant that makes a huge difference. It can save us. For me, God is that block of wood. Far from being small or insignificant, He steadies our ladder and makes sure we don't fall.

Salkehatchie, I'll see you next year.
"And let us not grow weary of doing good, for in due season we will reap, if we do not give up."
Galatians 6:9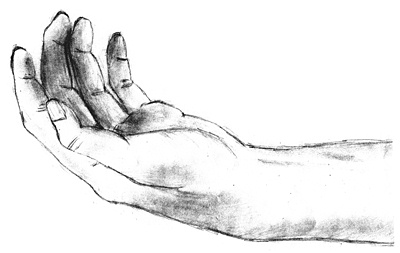 © Shana G., Cross Plains, WI