Food Bank
November 27, 2015
Every week, children and residents of Eastern Oklahoma are hungry throughout the week because they do not have the money to purchase food and goods. The Community Food Bank of Eastern Oklahoma provides food for these children and adults so they do not have to go hungry, especially during the holidays. A few years ago, I volunteered at the Food Bank with my family and family friends.

The Community Food Bank of Eastern Oklahoma, previously known as the Tulsa Community Food Bank, was established in 1981 as a means of the organization Neighbor for Neighbor. Over the years, it grew, receiving donations and serving hundreds of people. Each week, the Food Bank gives about 346,000 meals to people in need of nourishment.
As our group of people entered the food bank, we were led to a cozy room where we signed a paper stating the policies of the Food Bank. After everyone signed in, a friendly person gave us a tour of the ginormous food bank. He showed us the storage room that contained the huge shelves packed with food in thick plastic wrappings. The storage room reminded me of Home Depot because of the towering metal shelves packed to the greatest heights and the tan tile flooring. We stood and listened to the kind man as he told us about the food bank and the people they serve.
After he finished speaking, he led us a a wing that opened off from the great storage room. It was a medium sized room that contained a metal table in the shape of a sideways, backward "E" without the middle line. We all went to stand in different positions on the table. The woman in charge explained that we were to pack meal bags for citizens in our community. Each person had a box or container of food set in front of them. As a bag went down the line, everyone would place one or two of their food items in the bag and the last person would tie it off and put it into a thick cardboard box. Everyone in our group was excited to do this and we were all ready to help many people by packing them a meal bag filled with not just food, but also love.
Our group got into order, and bags started sailing down the table. I was in charge of the tuna cans and sometimes also the vanilla and chocolate pudding. Other food items being placed into the bags were pancake mix, powdered milk, and canned foods. As each bag passed, I would carefully, but quickly place a can of tuna into the bag and pass it on to my twin sister on my right. Soon, placing tuna cans in the plastic bags became a routine. I would receive a bag and check to see if the tuna can was damaged. If it wasn't, I put it into the bag and if damaged, I scurried to get a new tuna can to replace it. Bag after bag, tuna can after tuna can, I was delighted to help an amazing cause. While volunteering, I pictured an old woman wrapped in gloves, a scarf and a warm winter coat in her small, cozy house with her bag of food from the Food Bank.
Every so often, someone in the group would ask about how many bags of food we had prepared. We hadn't really been counting, but someone always had an estimate. Minute by minute, the number grew. Before I knew it, about two hours had passed and boxes filled with bags of food covered the ground and were stacked on top of each other. Our volunteering time at the Food Bank was almost over. I stretched my body and looked at my grimy hands. My fingertips had turned black from all the cans I had handled. Everyone in our group was curious as to how many bags of food we prepared. We figured out this number because we had packed the same number of food bags, 12, into every box. After counting, the final number turned out to be 372.
This number really struck my heart. We had prepared 367 meal bags for 367 hungry people in our community. And I had played a part with just mere tuna fish cans in every single bag. I was extremely glad and happy because these meal bags would help so many people and there would be 367 people whose stomachs would be full. This number also helped me realize that a great number of people in the world must be struggling to purchase good if there were at least that many people in my community.
Our group stood together as the man in charge told us that we would really impact our community by provided meals for these people. He thanked us and we thanked him back. A lady came around our group and we all got to chose a piece of candy. After I had chosen my candy, I washed my hands in the metal sink, washing away the tin of 367 tuna fish cans. The dirt swirled like a speedy tornado down the opening drain, but I kept the number and the feeling of the grime. I wasn't just going to let it go. I kept the tins and the grime of the tuna fish cans tucked into my mind so I would never forget volunteering at the Community Food Bank of Eastern Oklahoma.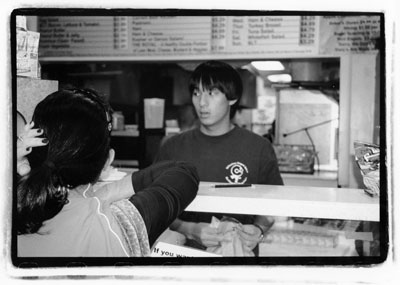 © Rachel D., Bethesda, MD