The real side of Detroit
February 25, 2009
I looked around me as I saw the Detroit I could never see from downtown. Downtown Detroit had beautiful buildings and bridges. Amazing sports arenas and restaurants. Anything you could imagine. Hear, I saw people on the verge of starvation in long lines waiting for a cold plate of food. Maybe the only food they would have for hours, maybe days. Most were wearing dirty clothes; some of their clothes didn't even fit. I saw old people and young. A woman with her newborn baby. And an old woman, like 80 years old whose car was just stolen. Even little boy being screamed at by his grandmother for playing. I saw the real side of Detroit, a Detroit soup kitchen
I packed large bags full of soup, eggs, milk, bread, and anything else we could find in the large food filled rooms. 250 people came in to get groceries from hear for free. The soup kitchen functioned only by the help of volunteers and donators. I helped an old frail women carry groceries to her car. Something she was very lucky to have. Although she was going through tough times she had a smile on her face every time I saw her. This lady was truly happy with the things necessary for life that she has, while you see people with everything, but they are never happy. As I continued to hand out groceries, there smiles widened truly grateful for what was being handed to them.
I went to go help with serving lunch at around 1pm. a whole club was preparing and serving the meals.
I walked around pouring water and handing out treats to the little kids. When I handed a little boy a cookie he came to hug me and thank me. As I continued around the little kids continued to be thankful for just a small cookie, something most people would complain about not being big enough. The parents looked at me gratefully, almost like thanking me for making there Childs day.
As I walked out the door I thought of the faces I had seen. Scared, grateful and almost everything else you could think of. I still continue to think about the people I met here and I continue to donate as much as I can. People say a child should not go to a soup kitchen, or even be in this part of a city but I think every child should be able to see with their own eyes how lucky they are.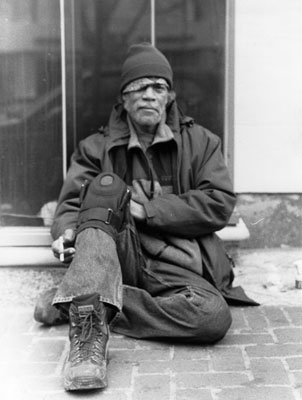 © Marie D., McLean, VA