The Girl Terry Fox
December 9, 2008
Hi. I'm Estelle. Some like to call me the "Girl Terry Fox". When I was thirteen, I was diagnosed with bone cancer in my leg. Before long, it spread to my other leg. The doctors at the hospital did a whole bunch of tests on me, and discovered that chemotherapy wouldn't do much good -- they'd have to amputate, or I'd lose the use of my legs. They'd give me prosthetics so I could at least walk. I was really scared, and sad, too, because I've always loved sports, especially running, and the doctors said that I'd never be able to run again. I was devastated. Running was my biggest passion.

But I refused to let myself be stopped. At first when I got my prosthetics, I could barely even move them. But soon I could walk with crutches. My best friend Gina was my personal trainer, and we trained every day. With her help, before long I could walk without my crutches. Finally I could run again! I was overjoyed, and proud of myself for beating the odds.

I wanted to do something to help other people with cancer, so I decided to join the Marathon for Cancer in my district. In this race, people bet on a winner, but the winner never got the money -- all the money went to cancer research. I was so excited, but nervous too, especially since the first time I'd run, one of the screws on my right prosthesis broke, and I was afraid it would happen again. But Gina helped me through it, and I won the race! I felt great knowing that tons of people had bet, and a lot had bet on me, and the money was going to help people like me who fight for their lives every single day.

Cancer is a curse, but it can also be a gift -- a lesson. I learned that cancer doesn't have to stop you from doing what you love, and it sure doesn't have to kill you. It's just another obstacle, another hurdle you have to jump over, another thing you have to defeat in order to succeed in life. Hopefully, though, in the future, we'll have one less hurdle to jump over. There is no cure for cancer yet, but somebody's gonna find one, and it's gonna be me.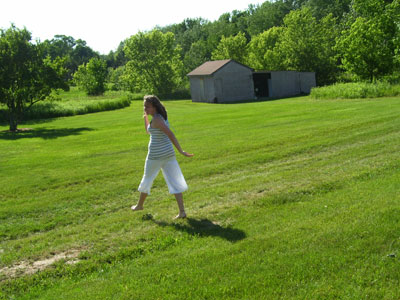 © Anonymous