Teen Ink Rating and Comments
December 16, 2012
So I'm new here. Well, I still feel like I'm new anyway. Everyone still talks about meaningless names intently on the General Chat, abnormal names that mean nothing to me. Yet it states on my page "Member for 2 months, 10 days, 6 hours, 7 minutes, 55 seconds". But I know, from the knowledge of submitting my 12th article that ratings and comments mean a lot to the author, no matter how negative.

When I first joined, I advertised my stories forcefully every minute I could; to my family, to my friends, but mainly to the people who were online. Not many responded, but even so, most articles had a few ratings or even more rare, comments. Mainly positive, but a few laced with constructive criticism. These had around 90 views, though I imagine half of these must have been mine, in the constant viewing in desperate hope that someone commented within the last 5 seconds of me checking. In fact, I believe my most popular story received 87 views, 3 comments and 8 ratings. Slowly, these views dissipated as my time on Teen Ink unfortunately decreased. Consequently, comments and ratings became fewer as well. After around a month, my times on Teen Ink was virtually nothing, other than the odd weekend when I would lazily type up a story and press the "Submit" button, hope churning in my stomach for positive feedback. I never had the time to talk on the chat to demand opinions.

Miraculously, 2 of my articles in this time period managed to achieve "Editor's Choice", causing many more views than usual. Still, ratings and comments remained scarce. One of these had 32 views (barely any of these myself), but only 3 ratings, 2 of which I'm almost sure are my own. Does it really take that much effort to press a button a couple of times? After not looking at the website for just under a week, I saw that my recently submitted articles had many views; 59, 45 and 18. At first, I was surprised as I had not pressured anyone to read these, yet somehow they had become seen. Then I saw a blank space beneath the viewing information. Nothing. No rates, no comments, no opinion. 122 separate people hadn't even considered helping a fellow writer.

At present, I'm determined to comment and rate every single story I read, no matter the time it takes, because I know how valuable that feedback is to the budding author. But next time you read something, and think "Wow!" or "Hmm, this needs a bit of work…" state your opinion (no inappropriate comments please!) and make the writer satisfied.

After all, would you want your work ignored?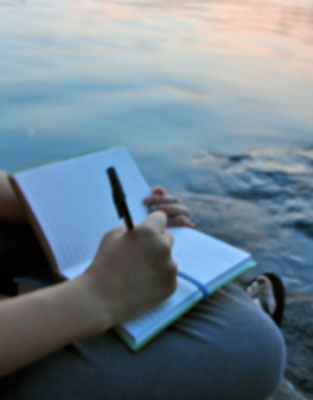 © Grace K., Port Washington, NY